and another UPDATE!
...the Cycle Cafe Tea Garden hopefully re-opens week of Tue 20th June
We regret that due to ongoing building works the Cycle Cafe Tea Garden opening is further delayed. We are sorry for any inconvenience caused.
The limited workshops taking place over this period will be unaffected.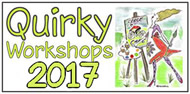 The email detailing 'What's new' for 2017' is viewable at above 2017 picture link
new dates are detailed below
. . .more Quirky Workshop courses in Bushcraft & Heritage Skills
Cumbria, the Lake District, the North and North West,

Sculpture in Stone Carving

(Simon Keeley)

Hand stitched Leather Work

(

Ruth Pullan)

Raku Pot

ter

y

(Dave Norman)
Willow Sculptures (Phil Bradley) Wire Sculptures (Sue Nichols) Life Head & Figure Sculpture(Damien Rochford)
Traditional English Longbow Making (Tony Saunders) Wildlife Wood Whittling (David Harter)
Blacksmith for a Day (Adrian Woods) Knife Forging Day (Mark Constable) Cob Pizza Oven Building (David Alty)
Cane Chair Seat restoration (Wendy Wilkinson) Wood Block Engraving (Peter Brown)
Relief Hardwood Carving (Alister Neville) Greenwood Pole Lathe Turning (Chris Helliwell)
For courses specific to Art, Textile, Cookery and Beekeeping see individual pages above in the top menu.
All other workshops in variety are divided between this page (mostly bushcraft related) and the MAIN workshop page which also contains the definitive
listing of all dates, times, prices and availabilty . Both of these Workshop pages contain tagged drop down menus to help you navigate these longer pages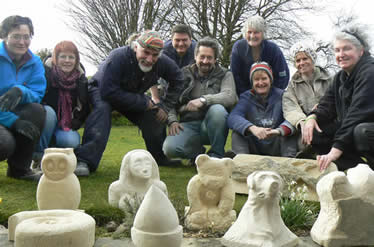 Introduction to 3D Sculpture in Stone Carving 2017
with Simon Keeley Suitable for all abilities.
Course Dates for 2018

Sat 26th May 2018 starting 7.30pm then Sun 27th Mon 28th Tues 29th 10-4.30pm

£330 inc a 2 course lunch every day and all refreshments

We are delighted that award winning stone carver Simon Keeley MA from Surrey

will be travelling north to Greystoke again in March 2017 to take a 3+ day course. Simon has been carving in stone for some 20 years and teaching his craft to students of all abilities throughout the UK and abroad for the last ten. During this exciting course you will be carving a 3d form of your choice, be it abstract and 'Moorish' or something more traditional for your garden or home.

A SHORT VIDEO about SIMON - click on pic

Starting 7pm Friday evening with Simon leading you through the process of drawing and then creating a 'maquette' (a clay model) of your chosen subject .

On the first morning Simon will demonstrate the stone carving process. Over the following 3 days

working under his watchful eye, you will be guided through the world of the Stone carver working

in three dimensions, sculpting your design in stone. The course will take place in an unheated space under cover or in an old barn. You will keep warm as you will generate plenty of heat.

In recent years students have opted to work outside under cover or in sunshine.

Your course fee includes refreshments and a lovely 2 course lunch each day,

all tuition and tools

The stone to carve will cost extra and these will be payable during the course and be

between £20 to £40 per person depending on the stone. Clay for the maquette is provided FOC

Easy to work Portland limestone, Bath Stone or similar will be used

for this course . Working in stone is absorbing and creative and the

workshop will give students a good grounding of first considerations for

carving a 3d form in stone.

Simon has recently (and consistently) won awards for his work in the much acclaimed 'Craft and Design' publication. After one of his Gold awards, a judge commented . . .

'All the finalists show exceptional skill and creativity but for me the work of Simon Keeley takes my breath away. He is not just an immensely skilled stone carver, he has exceptional draftsmanship and the ability to adapt his skills to traditional and contemporary styles of work. Perhaps for me though, it is his desire to not just demonstrate his skills and have his work on view for all to see, but to pass on his skills through teaching at workshops and on courses that stands him out above the other finalists. All craft skills used today are based on those used for centuries by generations of master craftsmen and the passing on of these skills to future generations is vital to the survival of the skills and to enable our children and grandchildren to experience the joy that owning – and maybe creating - a skilfully made, beautiful piece of handcrafted work brings to our everyday lives'

Please book through Annie via How to Book. . .

Or through Simon by email or through SIMON KEELEY's website

Student pieces from 2016

This course will highlight the importance of drawing in preparation for a carving. Also the relevance of producing a maquette (model): before approaching the stone block. Subsequently you will learn how to transfer your design, from sketches on paper or in clay directly onto the block before you begin the carving process.

About Simon Keeley

Simon Keeley is a Multi-Award winning Stone Carver with vast experience and skill. His first training was as a Stone Mason at York college and later working as a Stone Mason for Bowman and Sons in Stamford, Lincolnshire. He went on to train as a Stone Carver at the London City and Guilds Art School, focussing predominantly with historica and /ornament carving. His inter-relational and design skills were pushed to new limits on the MA Art in Architecture course, at the University of East London. This gave him the confidence to go on to teach stone carving, in art colleges and privately

He regularly takes commissions and also produces free flowing sculptural

carving for ecclesiastical, gallery, garden,

public art spaces and private individuals.



---
Wood block Engraving ~ a 3 day course with Peter Brown
The points covered in this course and the sequence in which they are presented provide a sound introduction to wood engraving.
This course will be suitable for those who have some drawing experience and would like to print; however, there is no need to have any prior knowledge of printmaking.
Wood Engraving

Fri 4th Aug to Sun 6th August 2017

9.30 - 4.30pm each day

£185 for the three day course

inc lunch & refreshments each day

with Peter Brown

Peter has agreed to travel from his London home to take this

three day course in July and we are very excited!

The 'Feather Report is weekly column in The Times

by Derwent May describing the birdlife in Britain,

It is Peter Brown who has been creating these wonderfully

iconic illustrations to accompany each 'Feather Report'.

These lovely black and white images have been printed weekly from his intricate wood engravings for the past twenty years!

He will have much experience to share

Of all artists' printing methods, wood engraving has the advantage of needing the least equipment. It does not require a press but may be printed by hand. The cost of the basic tools and materials needed to produce a print is small, as is the space required to engrave and print a block. It requires minimal ink and small quantities of solvent, so there is little mess. Together these qualities make it very suitable for the keen amateur and it may be practised happily at home. It is a quiet, contemplative process, yet one which often results in characteristically strong images and has a deep tradition in Britain.

Peter Brown gained a post-graduate diploma in illustration from St Martins in 1992 and has since worked as a freelance illustrator and printmaker. He is a visiting lecturer in further education and teaches printmaking workshops at Central St Martins, MorleyCollege, Dulwich Picture Gallery, Gainsborough's House and the Sidney Nolan Trust. He specialises in wood engraving and Japanese woodblock and has illustrated a weekly wildlife column for the Times newspaper for the past 20 years. Peter is a member of the Society of Wood Engravers and exhibits with the Society of Wildlife Artists. HIs website can be seen at http://www.littlebrownbirds.co.uk/
Whittling Birds - with Dave Harter
Perfect for all abilities
During this course Dave will teach you traditional

hand carving, whittling, skills, using craft knives

and other specialist hand tools provided to enable you

to complete a carved bird in a day,

which can be attached to a display base.

A Bird in a Day

Tue 14 March, Mon 1st May

Sun 11th June *new extra date*

Sun 23 July 2017

£75 inc

All courses 9:30 - 5pm ish

Whittling is addictive once started

- therapeutic from being relaxing, absorbing

and creative & richly rewarding in a

sense of personal

achievement.

It has a small and low tech kit list ~

A lump of wood, a craft knife

and your lap. this means whittling can be done almost anywhere in and spare time available-

and it is also easily transportable.

There are two types of wood idea for carving;

the beautiful native lime

and the more exotic Jelutong.

Dave will complete the early preparative work to each wooden bird block in order that the workshop can be completed in just one day. A materials charge of £15 will be payable to the tutor on the day which covers both this and the specialist wood cost.

Greystoke is blessed with two excellent wood

yards in the vicinity, which supply both hard

and exotic woods perfect for carving.

Dave will tell you where to go

You will be carving a 'smoothie'

Some of you may prefer to keep this stylised finish

A smoothie Song Thrush

student piece waiting to be oiled.

Dave has worked with wood for many years but

concentrated on bird carvings since his retirement.

For the last four consecutive years his carvings have achieved Three Gold, Five Silver, and One Bronze awards at the National Bird Carving Championships held annually in Bakewell, Derbyshire.

Pictures of his carvings have appeared in many

publications and books.

Student piece

What to Bring and material costs

Dave will complete the early preparative work to each wooden bird block in order that the workshop can be completed in just one day. A materials charge of £15 will be payable to the tutor on the day which covers both this and the specialist wood cost.

Tools will be provided, but may be purchased after the course if you find you're bitten by the carving bug.

It is recommended that you bring an apron

If you wish to purchase you own tools before you arrive

(not necessary at all) the knives required are

Stanley code 10- 590 and Stanley 10-598

Blades are coded Stanley 5901. Dave will have all these tools available to borrow for the day or to buy at the end.

Click on this bird to see previous course

David will show how plumage details can be refined using pyrography transforming your bird into a life like model.

. This is one of the tutor's many lovely pieces.
---
Making Small Hand Stitched Leather goods with Ruth Pullan
Hand Stitched Leather Goods Day

with Ruth Pullan

Sat 1st July leather belts & purses

Wed 20 September make a small leather bag

£75inc a lovely Aga lunch

9.30 -4.30pm ish

Leather worker Ruth Pullan specialises in creating hand stitched bags and accessories using high quality British materials.

Join her for this workshop which will give you the basic skills needed

for leatherwork. Using these skills you will make a belt and a simple coin

purse or a small leather bag

You will learn how to:
- dye and condition natural vegetable tanned leather .......... - stitch using the two needle traditional saddler's stitch
- bevel and burnish raw edges for a professional finish .......................... - fit buckles and fastenings

Wed 20 Sept

Make a small leather bag in a day

£75inc a lovely lunch

Material costs will be £25 payable to Ruth for this day

Sat 1st July 2017

Make a leather belt and coin purse

£75inc a lovely lunch


Material costs will be £15 for this day
---
Bush Craft Days with David Alty - Cob/ Pizza / Bread Oven building & Greenwood Spoon Carving
Pizza Oven Building days 2017

Day courses £100 inc lovely lunch

Sat 20 May 1 new space

Sun 21 May full

Sun 4 June full

Thu 27 July spaces

Sat 29th July full

CLICK on the picture below for a videokindly provided by

Richard and Ali of their Easter 2016 workshop

https://www.facebook.com/richard.stevens.123829/videos/10154738119087977/

NOTE: Dave has available a source of CLAY suitable for students to build their own oven.

Please order this before the course day so he can come with sufficient supply. Then only sand is needed from builder merchant once home.

Over this busy one day course you will together build a Cob Pizza oven and so take the knowledge home with you to recreate your

very own outdoor Pizza and Bread oven in your own garden at home.

Starting with an existing plinth you will prepare, level and install the fire brick base and learn about the importance

of materials to use and insulation levels to maintain. Covering also the clay and material selection and dimension options you will then
start mixing the cob with bare feet whilst others will create a sand forma for the actual oven shape -

tasks will be shared to ensure experience of every stage is acquired.

Once the cob is ready to use and is well mixed, the group will prepare the loaves to cover the sand form and start creating the oven shape.

You will cook pizza later in the pm on a previously made oven so the process of lighting and cooking once your own oven is ready to use, is familiar.

David will instruct you on how to repair an oven and also how to open your oven once it is dried and ready to use

(4 to 8 weeks in summer depending on climate)

The pizza ovens at the Cycle cafe are completely covered up during the winter to protect them from frost and rain.


Note : this is a hands on experience day meaning you will take the knowledge home with you to build your own

Spaces are limited and early

booking is recommended



---
Raku Pottery days with Dave Norman
About Dave Norman

Having originally Studied at the Glasgow School of Art, Dave stayed in Scotland for several years to run his

own studio producing large architectural ceramics.

Moving to teaching and lecturing ceramics in

tertiary education over a period of 14 years he more recently moved to north Cumbria where he has established a new studio producing

thrown slip decorated wares and these

beautiful raku pieces, sold locally in galleries.

New for 2017 - Raku days

Sat 3 June full,

Sun 11 June full

Sun 30 July 5 space

Sat 5 Aug full

Sun 6 Aug 1 space

Wed 23rd Aug new date

or Thu 24 Aug new date

Sun 24th Sept 3 spaces

£75 inc a lovely 2 course lunch etc

All single day courses are suitable for beginners,

ie those with no experience of pottery.

Come and enjoy experimenting with the ancient Japanese technique of glazing and firing raku. Exciting and fast moving – raku is irresistible and highly in vogue at present.

Dave arrives with his kiln and all equipment necessary

for this outdoor day of working with heat, sawdust, fire and smoky bins!

The class takes place outside and during the day

students might manage to make around

6 to 8 raku pieces

What is Raku?


Raku firing is unique and one of the most dramatic and

exciting ways to fire pottery. It was developed in Japan

in the 16th century for the Japanese tea ceremony.

The pieces are glazed, dried and put directly into a

hot kiln outside for half an hour at a temperature of approximately 1000°c.

There is a £10 material cost payable to the tutor on

the day for usually between 6 to 8 pieces .

They are then put into a reduction chamber – a nest of sawdust covered with a metal cover- and this atmosphere and temperature changes ('redox') produce the wonderfully colourful, lustrous crackle glazes associated with

Raku Pottery. A range of stunning designs can be made by altering certain variables (such as wax resist, glazes, temperature and timing) to give variations in colour,

cracking and crazing.


Naked raku is a variation in which a slip is applied to the pot

before it is placed in the kiln. The slip cracks and breaks apart

during the firing and is chipped off to reveal a blackened

crackle pattern or an intentional design as seen here

on these pieces of Dave's.
David Alty runs various spoon carving & wild food courses that

can be arranged for groups of 4 min at a date to suit -please ask

Greenwood Spoon Carving

If you wish us to organise a bespoke course for you minimum 6 people

please get in touch

9.30 -4pm

From a variety of timbers you will learn how to choose, prepare and split timber

and the various methods and styles of carving you could incorporate into your piece.

This will entail using a variety of specialist tools which are all provided.

Below is a wonderful article from HOME FARMER magazine an invaluable monthly

publication for those interested in starting their own smallholding

£74 adult £48 14- 21 yr old with accompanying full place

The use of sharp knives etc in this class means it is only suitable for sensible

over 14's when accompanied by a responsible paying adults
---
Life head and figurative Sculpture days in clay with Damien Rochford
£75 inc a lovely Aga lunch

Life Head Sculpture in Clay

Thu 27th July

9.30 -4.30pm

Figure Sculpture in Clay

Fri 28th July

9.30 -4.30pm
Damien Rochford is a largely self taught contemporary figurative sculptor inspired by the likes of

Henry Moore, August Rodin and Gian Lorenzo Bernini. He will travel from Hampshire in late July

to offer separate workshop days in both Life Head Sculpture and figurative sculpture work.

Damien's artworks are cast in 'foundry' bronze using the lost wax process, then hand finished and patinated, resulting in each

piece being a unique work of art. They are then produced in limited fine art editions and sold privately and through galleries suc

h as The Wykeham Gallery in Stockbridge UK.

Materials and other charges

Both courses are suitable for beginners and those with experience. The tutor wil provide aprons, clay modelling tools and

the clay which will be between £12 and £20. Armatures for the Head sculpture day will be available. Students may take their

pieces home for firing or allow them to dry unfired. Numbers permitting we hope to use a live model for the days if and additional charges may apply for life models for those classes from £10 to to £25 per student depending on numbers.
Life sculpture classes
Students will working in clay using an armature and we hope to use a live model if student numbers permit - otherwise using one of Adrians's model sculptures. If you wish bring along photos of your own subjects. · The figure sculpture size is based on creating a work that is easily portable and manageable and can be produced from a 12- 25kg bag of clay. Figure size: I recommend 5:1 or ½ cm (5mm) to 1 inch. This would produce a standing figure based on a 6ft figure of approx. 18 inches (45cm) tall, which typically will produce a smaller sculpture when posed sitting or reclining.
About Damien
Born in Manchester Damien studied Art and Illustration at Bolton College of Art and Design. He moved to

Bristol in 1980 to study Post Graduate Illustration and Printmaking at the Art College in Bower Ashton;

his main focus was on the human figure

He worked for many years as an illustrator in publishing, advertising, editorial and animation before

taking up sculpting in 2007, where he started by producing a series of small busts.

Damien is mainly self-taught as a sculptor, but his inspiration has been many of the famous

figurative sculptors including Bernini, Rodin, Degas and Henry Moore.

He works with a variety of materials including; traditional clay, wax, plastering and polymer clays before

having the works cast in bronze. He draws constantly and finds this a great asset in his sculpting.

The human form is a major influence in his work.

Living and working from his studio at home in Hampshire with his family and a variety of animals,

his work is now increasingly influenced and based on the wildlife around him.
---
Pole Lathe Turning with Chris Helliwell
Be a Bodger for a Day!

Wed 16 August for beginners

Thu 17 August Bowl turning ( for those with some experience)

£75 adults £45 for 16 to 21 year olds

when accompanied by a full place

We are really happy to welcome the Yorkshire Bodger Chris Helliwell,

to Greystoke along with his 8 portable lathes. Join him to learn the process of working with green wood-

the importance of choosing the right sections and making the right cuts.

Working on a pole lathe is very relaxing and perfect to de-stress it also requires a reasonable level of fitness.

Where a Pole Lathe Day runs alongside a second workshop there may be an opportunity to have a go

during a drinks break.

for the BOWL Turning Days -experience is reqd

ie if you've attended another beginners lathe day here or elsewhere

Chris will teach you to prepare the wood from a freshly cut log section,

which part to use and how to reduce it in readiness for the lathe

using a draw knife and the saw horse

Once you get on the pole lathe you ll realise why it helps to have cycling legs -

it's quite physical but also extremely satisfying - you ll burn a few calories

but you might not notice as you'll be concentrating too -

totally different from an electric lathe it is alll leg power

The bodgers' lathes had to be portable to carry out to the woods and

this is why courses such as these can run - Chris , can bring his many lathes with him

they are each driven and worked by one person

n

Bowl Making on a Pole Lathe
---
Traditional English Long Bow making with Tony Saunders - (top Bowyer ! )
The traditional English Longbow was made from Elm, Ash or Yew, and sometimes whatever was available, even Hazel.

The wood of choice was one piece of yew - often even then they resorted to Italian Alpine yew with nocks made of Deer antler.

Originally they probably didn't even have a grip of leather, just a mark on the wood for the position of the arrow.

Laminated bows came later in Victorian times, (modern Longbow makers, tend to use the laminated method) imported woods became available ie Hickory, Lemon wood, Purple heart and these are glued together to form the bow. Tis is how bows were recreated during Viictorian times when there was a resurgence in interest in Longbows for leisure purposes.

During this course with Tony you will be making a longbow out of a single piece of ASH initally the wood will be worked using an axe and bill hook and then you will move to

your own shave horse with a draw knife or spoke shave.

Nothing is laminated or glued.
Materials Charge

Payable to Tony directly on the day for the ash staves that he prepares

and brings depending on the length between £10 and £12 per person

If you are prepared to share a shave horse and work together it may be possible for a parent and child to make a single bow together for an extra fee of just £40

Only well behaved children over 12 please :)

Originally Longbows were believed to be around 6ft in length with an estimated draw weight of 90–110 pounds-force maximum.

However, since the excavation of the Mary Rose, (the famous warship of King Henry VIII in service from 1511 until she sunk in 1545). where amazingly the longbows had been preserved in the mud and so the first ever intact examples of medieval weaponry were discovered . The length range was found to be from 6 ft 2 in to an amazing 6 ft 11 in- averaging 6 ft 6 in

The originally estimated draw forces were proved to be modest - the examples from the Mary Rose showed estimated by Hardy at 150–160 lb. It was believed that a professioal mediaeval archer could shoot an arrow around 350- 400 yardsand an everage archer approx 200 yds.

It was essential that the english army had sufficient young, up and coming archers in the making, and it was a skill requiring huge strength, precision and training . It was this difficulty in using the longbow which led various monarchs of England to issue instructions encouraging their ownership and practice, including the

Assize of Arms of 1252 and King Edward III's declaration of 1363

"Whereas the people of our realm, rich and poor alike, were accustomed formerly in their games to practise archery – whence by God's help,

it is well known that high honour and profit

came to our realm, and no

small advantage to ourselves

in our warlike enterprises..

. that every man in the same country,

if he be able-bodied, shall, upon holidays,

make use, in his games, of bows and arrows... and so learn and practise archery." If the people practised archery, it would be that much easier for

the King to recruit the proficient longbowmen

he needed for his wars.

The Yew trees of England were mostly cut down for longbow production and laws were changed to allow the kings men access to all lands for the extraction of Yew.

Once local supplies were exhausted we starting

importing and then created a new law obliging all incoming ships to

bring with them 4 staves of Yew wood just for long bows.

Such was the demand for Yew that it was becoming increasinglt rare

through France and Germany and we were turning to the Baltic for new supplies. Ironically, just at that time demand dried up as gunpowder and muskets became weapons of choice- with its easy penetration of plate armour. In addition the long and necessary skilled training needed by longbowmen eventually led to their decline and being replaced by musketmen countrywide.

Traditional English Longbow making 2 day courses

Sat 24 Sun 25 June 2017

Sat 12th Sun 13th August 2017

£180 inc lunch both days 9.30 -5pm ish

The English longbow is a powerful type of medieval weapon used both in hunting and as a weapin in medieval warfare. The English use of longbows was effective against the French during the Hundred Years' War, particularly and most famously at the Battle of Agincourt (1415).

At some stage we hope to run a YEW English longbow course - please let us know asap to join the list of those interested. We would be glad to learn of any fresh suitable straight yew boughs available for sale.

CLICK BELOW for

Short VIDEO of summer's Longbow making course made by

To book this Greystoke course please contact Annie or

Tony Saunders ynotcoppice@hotmail.co.uk 07961 054 114

Tony is a multi award winning conservationist with ten years experience in coppice, ancient woodland

management and green woodwork. He has been running Longbow courses for several years

from his woodland workshop at Brown Robin Nature reserve near Grange over Sands.

He runs many other courses from Grange as well as Longbow making

in many other woodland crafts - see his website

http://ynotcoppice.weebly.com/courses.html

Two day Traditional Long Bow Course

During this two day course you will start with a selected quarter length of ash called a stave which will be reduced using the traditional axe and bill hook tools of yesteryear.

In time the students will each move onto a shavehorse where the draw knife and finally spoke shave will be the tool of choice. The stave or bow will then be 'tillered' or trained to bend with great care and patience under Tony's watchful eye to ensure no one

become over enthusiastic too quickly and ends up with nothing more than firewood!

Once the draw length of the bow is achieved suitable for the size of the maker, you can estimate the draw weight and start making the bow strin to suit your bow and size.

Hopefully at the end , if there is time and some wood left over in a field close to the Cycle Cafe

or across to the Greystoke Castle estate to have a go at shooting arrows

to put your longbow through its paces.
Knife Forging Day Workshop with Mark Constable FWCB
A Hand Forged Knife in a Day

£140 each day inc lovely lunch etc for the first date

Friday 21st July book here with Mark

for the second /third days

Sat 22nd (full) & Sunday 23rd July book here with Annie

9.30 - 4.30pm 4 places max each day

No previous experience is required.

This knife-making course is more akin to silversmithing than full on blacksmithing, using light hammers and finesse rather than brute force and sweat.

During the day you will design, hand forge, heat treat (harden and temper), make and rivet on a wooden handle before honing the knife to razor sharpness.

Whether you chose to make a fruit knife, small kitchen prep knife or a replica Saxon eating knife the choice is yours, what you will take home is a totally unique hand made knife with that lived in look with a personality all of its own, a rustic almost historic looking piece.

An important aspect of the course will be using the very simple bucket forge,

Improvised anvils and some basic tooling allowing to replicate this simple, cheap and compact set up if you decide that knife making might be a new hobby for you.

The group size will be limited to 4 persons max to ensure a more

supervised day with plenty of individual attention.




Material Costs

There will be a small material charge payable to Mark on the day to cover costs

of steel and charcoal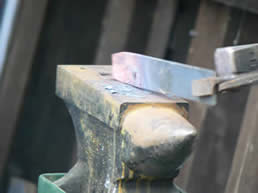 Blacksmith for a Day with Adrian Wood - One day courses throughout the year
Classes take place under cover outside

What to bring please wear old clothing

sensible shoes, preferably leather

(plastic trainers can melt )

strong gloves and do bring a heavy duty apron

if you wish... canvas/leather-

however this is hot work and in doing so you are

adding to your layers.

The cost of materials is included on most of the courses- except for the wine bottles holders that are made per piece

Adrian Wood is a university graduate with a degree in fine art sculpture from The University of London.

Adrian successfully completed his training at a

blacksmiths forge in York, after which he worked

for Brian Russell, widely regarded as one of the

finest blacksmiths in the UK. Brian's approach and processes to creating bespoke and uniquely designed metalwork has an enormous effect on the sculptures and designs created byAdrian Wood Artist Blacksmiths.

DATES 2017

Sun 28 May Dragon Hooks

Sun 16 July Rams Head Pokers

Sun 8 October Dragon Hooks

Sun 26 November Rams Head Pokers

Take Artistic Blacksmith Adrian Wood

arriving with his apprentice Lee from Cleveland

equipped with 4 portable blacksmithing furnaces, 8 anvils and many tools and you have the ingredients for a perfect blacksmithing day

Hooks and staples, fire pokers, a chestnut roaster,a toasting fork, dragon hooks, leaf hooks, scrolled hooks, candle sticks, bird feeders are some of the items that can be made during the one day course.

Make a Ramshead Fire poker

£115 inc lunch /materials

These days are suitable for all abilties but not for those with back problems.Minimum age is strictly 16 years for insurance purposes and in addition stamina is required throughout the day

Dragons Hooks,

Rams Head Fire Pokers or

Chestnut roasters

| | |
| --- | --- |
| | Dragon Hooks / Pokers |
Willow Weaving and Willow Sculpture Days ...with Phil Bradley
Courses are suitable for all abilites, especially beginners!
All Willow courses have an additional materials charge for the locally grown and harvested organic willow of £10.
Please bring this in cash to hand to Phil before the end of the day
All willow days incur an extra charge of £10

Please arrive with this in cash ready to give Phil before the end of the class

When not teaching, creating, demonstating or weavng

baskets, Phil manages and harvests his own organic willow

beds near Cockermouth

Cumbria's organic Willow Master

We are very happy that Phil runs several courses here at Greystoke- his days are always popular, inspirational and relaxing.

People find it hard to believe that, by the end the day,

they will tbe taking away their very own willow creation.

All courses take place in our cosy barn during colder months, though we make a beeline for the garden as soon as it's warm enough in the spring (so dress suitably in middling weather) .the exception being the LIVING willow, which by nature

has to happen in the early spring while the willow is still dormant and is always outside – usually in March .
Living willow

'Arbours and Lattice Screens'

This living willow day will show you how to create either a

willow arbour/ child's den andr a lattice screen in your own garden.

Once you have learned the technique and built

something with Phil you will feel confident

to go home and build almost anything .

living willow make fast growing permanent

structures that can screen off unsightly areas

quite quickly

... they are leafy green structures in the summmer

and can be really interesting architecturally

in the winter garden.

You may wish to order recently cut willow from

Phil to take home and make in your own garden

Click above for phots of previous living willow workshop
Willow Sheep

Wed 7 June 2016

Thu 16 Nov

£90 inc lunch etc

Max 8 places

Phil has been responsible for creating several life size sheep around the north of England

and for the last 2 years r been running very popular Sheep weaving days here .

The group size will be smaller,

it may be a bit of a longer day -

perhaps until 4.30 or 5pm and the

material costs a little higher-

See the link below for photos of a recent sheep day here

However, by the afternoon

you will have created something

quite unique - that will without a doubt

be a fraction of what

Phil charges for the same.

Hopefully you will be incredibly proud of this

impressive sculpture,

These photos show how Phils

excellent tutoring

ensures even Beginners

can make a willow sheep
Pictures below of our last

Hens and Cockerels day

Spend another relaxing day with Phil sculpting your own farmyard birds…

in vogue hens and cockerels

All Willow courses have an additional materials charge for

the locally grown and harvested organic willow of £10

payable to Phil on the day

Hens and Cockerels

Fri 17 Nov 2017

£78 inc lunch etc
Willow Wigwams

Although all the willow courses are suitable for Beginners - the wigwam is by far the easiest course on offer and so will render the

best results for any nervous beginners -Phil is a brilliant tutor and

will keep you all on track

Wigwams add structure ,make great statements in the veg patch and can be used for climbing flowers and peas/beans etc in all areas of the garden.

They can also be put into large 1/2 oak barrels to support sweet peas or and other climbing veg or flowers - even clematis.

Wigwam and Angel Days

are both quite structured and so make ideal

days for nervous beginners
Main Programme table containing

availability & above information

Willow Deer

Thur 20th July 2017

£78 inc lunch etc

9.30 -4.30pm ish

Spend your day creating your very own life size small willow deer –

some 2 ½ - 3ft high - to graze in the corner of your orchard

(if you're lucky enough to have one!),

hide in your herbaceous border, luxuriate on your lawn -

or if you want it to last forever it could

watch you from a windowsill

PIctures below of a past deer workshop
Willow Hares

Tues 6 June 2017

Wed 19 July

Tue 5 Dec 2017

£78inc lunch etc

Make a life size hare to nestle

in your garden border
Willow Angels

Thu 8th Dec 2016 few spaces

Wed 6 Dec 2017

£78 inc lunch etc

These Angel days are traditionally our last workshops

before the Christmas break and are full of festive spirit .

They provide an opportunity to produce your own 2/3ft high Angel to grace a special corner of your room at Christmas.

Made to Phil's own design they are unique and look great with candles burning at their base and their wings lit up with stars/lights/tinsel which shimmers in the rising heat.

They are so beautiful you may be tempted to keep them on dispay. Just remove the Christmas connections and they'll be happy in a special corner and watching over you and looking elegant. Ours is in the loo ! (the room). Hopefully she's happy.

Click below for photos of a past Angels workshop
| | | | | |
| --- | --- | --- | --- | --- |
| 'Greystoke Cycle Cafe | | | | |
---
Upholstery Courses with Paula Mallinson of 'Muster' home interiors in Penrith
Paula lives in the lovely village of Armathwaite, with her husband, 2 dogs and 4 horses. Enjoying a beauitiful location on the banks of the River Eden, they operate
a popular 'Glamping' site with both gypsy caravans and Mongolian yurts. Her grandparents were travellers and for a while her grandad was a horse drawn, 'Rag and Bone' man.

Paula trained with a local upholsterer for three years and she still regularly attends the Ministry of Upholstery in the NW.
She is drawn into transforming items others no longer want into something they desire, using her many upholstery skills, lovely fabrics and various painting techniques.
.
Upholster a Drop-in Chair Seat

with Paula Mallinson from

'Muster' home interiors in Penrith

Friday 25th August 2017

*new date*

9.30 -4.30pm

£75inc a lovely 2 course lunch etc

Spend a day with Paula learning how to re-upholster and cover

a drop in chair seat. Bring some of your favourite material and Paula will provide the tools and know how to create a lovely new seat.

There will be an extra materials charge of £15 payable to Paula on the day to cover linings, straps and and wadding etc
Make a fabulous Footstool

Build and Upholster

(choice of Queen Anne or Classic style )

with Paula Mallinson from

'Muster' home interiors in Penrith

£75 inc lovely lunch etc plus

Join Paula for a day and build your own lovely footstool out of a specially designed kit. Build up the frame, stain, paint or wax the legs, then upholster the top seat layer by layerbefore finishing off

in your own lovely fabric.

There will be a choice between Queen Anne legs or Classic legs. A

At the end of the day you will leave with your own unique hand made 'Ministry of Upholstery' footstool.

No doubt it would make a beauitful Christmas present for someone

,If you can bear to part with it. Alternatively, keep it as proof of newly acquired skills and enjoy putting your feet up on something special!

Paula will bring along the special kits for the size of footstool you have ordered and paid for at the time of booking - there are two choices

Standard Queen Anne or Classic footstool 48cm x 36cm £50

Large Queen Anne or Classic footstool 70cm x 48cm £75

and these charges payable directly to Paula at the time of booking cover both the footstool kit plus use of all upholstery materials and tools over the workshop day.

You will need to bring your own outer fabric - 1 metre
Woven baskets and bowls ...weaving rushes, grasses & more with Averil Otiv
Thu 1st June 2017

Tues 7th November 2017

£75 inc a lovely 2 course lunch

Materials are charged extra between £5 and £15 depending on materials chosen

Please look out for some old linen OS maps in charity shops to make waster paper baskets

Join Averil for the day and learn all about soft basketry techniques, over the course of the day it will be possible to produce several containers, maybe 3 or 4

depending on your choice. A lovely relaxing, productive and 'in touch with nature' day.

Learn to weave rushes and long leaves from your garden into a variety

of useful containers. Garlic baskets, a glasses case, bread baskets and even

waste paper bins from old style linen based OS maps are just a few ideas.

The materials used are satisfyingly diverse with many found in our gardens -

sweet corn husks, leaves from iris, day lilies, rushes, red hot pokers amongst others..

About Averil


With a lifelong interest in the natural world Averil studied botany at university before teaching Biology in the both America and at home. She attended an inspiring workshop some 20 years ago which sparked a passion for textiles and the finer intricacies of weaving, which she then extended to her garden. Particularly keen on the tapestries created from weaving plants harvested at home; she now holds workshops showing others how to make soft baskets and pouches using l natural materials.


Particularly satisfying is being intimately involved with every stage of the process from harvesting, to drying and sometimes using natural dyes before transforming the soft dried fronds into something special and useful.

Another particularly lovely idea of Averil's is using old linen maps to create wonderfuly personalised waste paper basket gifts for friends and family .



Making Wire Garden Sculptures with Susan Nichols
Due to family committments

Sue will be unable to teach at Greystoke in 2017

Naturally we very much hope she will return

to teach here in summer of 2018

Geese

10am to 4.30pm £98inc lunch

Book here

Hens

9.30 -4pm £88 inc lunch

Book here

WHAT TO BRING ON THE DAY

For those coming please bring 3 things

A pair of needle nosed pliers

Strong gloves - but not so thick as to be clumsy - the green type textured gardening gloves from B & Q are ideal

Something to protect your lap - a strong/ thick apron is good- or a piece of leather if you happen to have one?

The cafe has some strong aprons you may borrow. .

Due to family committments

Sue will be unable to teach at Greystoke in 2017

Naturally we very much hope she will return

to teach here in summer of 2018

Main Programme table containing

availibilty & above information

Susan Nichols works from Holmfield Nurseries near Driffield, East Yorkshire and has been running courses making Wire Sculptures for the last nine years

Sometimes she braves the long journey over to the Lake District to teach those west of the Pennines how to make her fabulous sculptures

Made out of pre cut sectioned galvanised chicken wire. they are

solid, sturdy, and designed to last for years and years in your garden.

If the weather is fine we usually work in the garden .

Material charges payable to the tutor on the day are dependent upon wire prices at the time

typically around

Geese @ £15 per bird

Hens @ £12 per bird

Susan brings the wire precut and sectioned - in ready to use pieces.

Click below for hundreds of recent workshop pictures

Susan also runs workshops from her own home in

Fridaythorpe in East Yorkshire
Cane Chair restoration workshop with Wendy WIlkinson
Caning for Beginners

Sun 2nd July (in the garden under cover as necessary)

Sun 17 September 2017

Great news for cane chairs everywhere! Although its not possible even for the

most experienced to replace a cane chair seat in a single day , this is wonderful opportunity to learn the various stages of this

lovely craft from Wendy, an experienced restorer in a single day course

By the end of the day you will be going home with a chair well on

its way to receiving a lovely new bottom!

. . .and hopefully you'll remember never to allow anyone to use any caned chair to

change a light bulb - ever again!

Wendy WIlkinson is an experienced restorer from Manchester and will travelling to Greystoke for the day to teach this wonderful age old craft . You will need to bring with you a cane chair to restore and in order to ensure that students are able to finish their project in a day students must (at home) remove the existing cane (and keep it for use a template) before they arrive. This way the chair will be ready to start to recane as soon as the day begins -

we will send you the simple instructions provided by Wendy when you book

There is a materials charge of £ approx 15 payable in cash to Wendy on the day for the cane used for each chair
| | | | | |
| --- | --- | --- | --- | --- |
| 'Greystoke Cycle Cafe | | | | |