*NEW UPDATE* Cycle Cafe Tea Garden closed until Fri 2nd June
We regret that due to various delays in building works, the Cycle Cafe Tea Garden will be unable to open until Fri 2nd June. We are sorry for any inconvenience caused.
The limited workshops taking place over this period will be unaffected.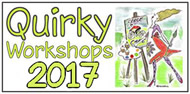 Textile Courses 2017
above link summarises new courses as per recent Christmas email
Nuno Felt Scarves Leno weaving Traditional Large Floor Hookie Rag Rugs Felt Slippers
Twill & Herringbone Felt Art Batik Wonderful Winter Scarf Weaving Needlefelt Herdwick Doorstops
Spinning Wheels & Drop Spindles Pattern Cutting Rag Rug Hookie & Proddie Make a Tote Bag
Lampshade printing ~ Beginners ~ Intermediates ~ Lady Anne Crewel Work Classes
Leather Handled Tote, Messenger & Slouch bags, Box clutch, Clasp and appliqué purses
with Emma Redfern of 'Hole House Bags'
Emma is a self taught seamstress who started sewing a few years ago when her children were very young. She quickly became interested in sewing bags, an item which showcases beautiful fabric
whilst being very practical. Anyone who loves textiles, handbags and facebook will surely already know Emma Redfern's very popular 'Hole House' facebook page
from where she sells her wonderfully original, unique and quirky bags.
Living just a few miles away from the Cycle Cafe in Cumbria's lovely northern fells we were delighted when she agreed to take some courses here in Greystoke during 2015.
With a background in art history and an interest in the Victorian Arts and Crafts movement, she believes that anyone can produce something beautiful and useful given a little instruction and some inspiring fabric.
During these workshops you will learn how to make a professional looking bag or purse, unique to you in your chosen fabric using your own working domestic sewing machine.
---
Design and weave your own Scarf with Jan Beadle

Perfect for Beginners and intermediates. Weave a scarf with your own 'theme' or try weaving tartans, twills and leno weaves
Discovering Traditional Crewel Work . . .with Philippa Turnbull of 'The Crewel Work Company'
Understanding Basic Pattern Cutting
---
'

Be Fabulous with Felt

'

. . . with Linda Anne Chapman -

SewSister Fantasy Birds and Fabulous Felted Dolls, Mermaids and Fairies
See pictures fom Sewsister April 2015 workshops

we had the most amazing 2 days with Sue here in April 2015

what a fabulously talented group of ladies came

on boh days- here are the pictures for you to see!!

Fantasy Birds

Mermaids and Fairies

(photos coming soon)

We're thrilled that Sue is reutrning om November 2016;

her classes are alway very very popular

On separate days students under her guidance are able to make wild and wonderful fantasy birds and fabulous felted dolls following Sue's own special style.

Materials will be charged extra and payable to Sue directly on the day depending on what has been used. Feel free to bring as many of your own materials as possible ,

here are Sue's 'What to bring' details

Sue Allan, known to many as SewSister, is qualified in many spheres to teach design stitched textiles and embroidery.

She taught A levels students for nearly 20 years before developing SEWSISTER her own business in textiles & creative products

In 2007 she won her first design award with her uniquely textured and individual dolls and hasn't loooked back since.

Her business and products are loved by textile fans countrywide

, they are inspired,

retro quirky and in her words . .

. 'downright different'