Print This
Guestbook

Welcome to the Greystoke Cycle Cafe guestbook. Many thanks for all your great comments throughout the year.

To post a message regarding the cafe - ( or the workshops) -

There is also plenty of feedback on our facebook page which is an open page

(you dont need to join facebook to see the pics)

and there are many many photos of each workshop day we hold here- almost an album per day -

providing a perfect insight into what goes on at a Quirky Workshop

It's always lovely to receive, so thank you for your continued lovely feedback since the entries below.

We will always acknowledge but now just a little bit too busy nowadays to update this as often as we should Xmas 2015

Following is feedback received since May 2012 - thank you again for taking time to write to us after you ve arrived home- its always a treat to receive them and keeps us going when we need it :) it's always a team effort- even the cats!

"A big thank you for the recent Gluten Free Cookery workshop I attended… the day turned out to be immensely enjoyable and I picked up lots of tips and ideas…The car smelt so good on the way back like a bread bakers oven!" Neil P, March '12.

"Just a note to say what a wonderful day I had yesterday, thank you so much.
The food was great, as ever, I only had cheese and oatcakes for supper last night!"- Alice H, March '12, Willow Weaving.

"Thanks for a great day on the bread making course with Gill" David C, March '12.

"Just a line to thank you for the bread making course last week. I really had a great time and certainly learnt a lot" Peter L, March '12

"Many thanks for forwarding the photos for the 'gluten-free day'. I really enjoyed it and found it very helpful. Hope to come again!" Gilly H, March '12.

"Just a quick line to thank you properly for your kind hospitality at the weekend…Really enjoyed your lovely cafe, and it had to have been the most interesting loo I've ever sat on." Julian A, May '12, Camping.

"Thanks Annie, great memories of the day here. I enjoyed it all immensely, the tuition, the food (the soups were especially tasty) and refreshments in such a lovely relaxed atmosphere made such a great day. The concerns about being a 'beginner' were soon forgotten." Sue B, May '12, Beginner's Watercolours.

"Just a short note from me to say that I had a wonderful time at yesterday's Warre hive building day.

The atmosphere was friendly, relaxed and Neil is an excellent and supportive teacher with enormous skills. I came away feeling empowered and with a lovely hive." Keith H, May '12.

"Just to say thank you for the time I spent at The Quirky Workshop, I really enjoyed it. Annie your food is wonderful I enjoyed it so much, so thank you once again to all and hope to be back in the future." Eileen D, May '12, Beginner's Watercolour.

"I just wanted to say thank you for a fantastic day yesterday. The whole atmosphere of the day was friendly and welcoming, the food was delicious and I learned a lot about starting out with pen & wash. I'll be recommending the experience to friends and colleagues and I'll be in touch myself again shortly to arrange another workshop." Dorothy G, May '12, Pen & Wash Watercolour.

"Just to thank you for the excellent hospitality and breakfast, and to let you know we all made it to the end of the C2C. Hope to see you next year. Brilliant stay, brilliant host, brilliant ride." Julian A, May '12, C2Cers

"I attended the session on Saturday with my sister. We both thoroughly enjoyed the day and came away inspired and eager to put our new found skills to the test. Thank you for your hospitality - I've recommended the cafe & the workshops to a number of people already" Tracey H, June '12, Felt Textiles.

"Just wanted to say a huge thank you for everything you did for me on Friday night, if it wasn't for your kind help and initially your fantastic self service barn I don't know what I would have done. I will be recommending your cafe to every cyclist that I know as you provide an outstanding service." Craig, the lost cyclist from Durham, June '12.

"Thank you so much for a lovely 2 days in your loving care: fab food, fab garden, great company & tuition. Really, really enjoyed it." Lynette W, June '12, Botanical Illustration.

"What a fabulous day out, I had such fun making my sheep and you have a fabulous Venue. All food and teas coffees thoroughly enjoyed. I look forward to making another sheep and doing another course some time" Rachel M, June '12, Willow Sheep

"A truly wonderful 3 days, pip was so helpful, setting was true Cumbria, great group, Thanks Annie, will definitely be back" Susan L, August '12, Stone Letter Carving.

"Just to say many thanks for your hospitality n amazingly magnificent lunch and scones on saturday, had a fabulous time!" Cath W, August '12, Skep making.

"I've been very happy with the skep and looking forward to the swarm season next spring. Food, as ever, was spectacular....bread & butter pudding with custard v nice though pavlova at wrong end of table to get proper portion – darn" Richard L, August '12, Skep Making.

"We both had a great time on Saturday and it was such glorious weather too! It is such a great place to do a workshop, thank you also for the lovely food too." Lyn B, August '12, Water Dousing and Coracle Building.

"What a wonderful day John and I had at the Pole Lathe Turning course yesterday. From the moment we arrived and your most friendly welcome, Chris Helliwell's excellent and patient tutoring to the superb home cooking from your kitchen proved to be a magnificent day for us" Tony C, August '12.

"I have raved so much about the cycle cafe and it's restorative powers so much that the Hubby would like to come along next year to have a go. Many thanks again for such a great day weaving." Deb M, October '12, Scarf Weaving (Jan Beadle)

"Personally I think your website is outstandingly good – and really holds my attention! Many others don't." Shirley C, Nov '12, website feedback.

"Hi Annie. As ever, it's lovely to get your update emails, although we've not made it onto one of your courses this year (where has the time gone??) -we still love to get your emails and we love your website just as much and just as it is!" Cath R, Nov '12, website feedback.

"Just wanted to say thank you for a brilliant day yesterday really enjoyed it. Lovely lunch and very friendly people.I shall hope to come to another course." Heather T, December '12, Nature in Enamels w Tilly Wilkinson.

"Many thanks for a great day - a lovely way to spend my birthday! Enjoyed myself such a lot." Carol D, Dec '12, Willow Angels.

here are are some of the emails you've sent between Feb and August 2011 - thanks so muh for taking the time to write- it makes a difference and is really nice to know you had a good day

Hi Annie , just to say I really enjoyed the blacksmithing course today – and the excellent food . Best wishes for a good 'season' - Mike

Hullo On Wednesday 22 June 2011 three pensioners on bicycles made use of your incredibly welcoming facilities, bought tea, water and cake before heading off to our B&B near Kirkoswald.

I would like to thank you in the strongest possible way for having the courage and belief that your trust in cyclists would not be abused. I, for one, was feeling a little tired when I arrived at about 1630 but went on suitably refreshed.

Very many thanks. Kind regards Ian S

Thank you for sending photos of Colin Swinton's course, which brought back pleasant memories of an enjoyable and worthwhile day. Colin was a generous and helpful teacher, and I think we all found his technique really interesting. And of course, lunch and tea were highlights!! I look forward to coming again for more artistic inspiration. Best wishes, Judith H

Many thanks for sending the pics. The day was the best craft event I have attended for atmosphere, environment and learning a skill which I have used almost daily since. If you decide to hold an advanced day I would love to come. I am no longer at College – please use my home email Regards Sue

Just to say thank you to you and Phil for an excellent day...I thoroughly enjoyed it and met some lovely people... Phil is so patient, and he is very talented. Your food is excellent and you made us all feel so welcome. Dawn B – Willow Sheep

I just wish to thank you and your colleagues for a very enjoyable day on Sunday. The food was delicious and the company very friendly and easy going - not at all fussy. We are both very chuffed with the hive , I have to say Fraser did a good job of building it whilst I made an equally good job of passing him the various screws and sanding where necessary! Jill B , Bee Hive building day.

Thanks Annie! We had a great time at your workshop and we're still getting a thrill out of showing off our wares. They've all been used in anger - the toasting fork performed well with a fat sausage on the end of it! Thanks also for the food on the day, which was excellent. Richard and Lindsey – Blacksmithing.

Thank you very much for the pictures and the write up. I really enjoyed the dowsing day – it was such fun! If Eleanor and David do return, I would definitely like to be there again. Sally – Water Dowsing and Divining

Just a quick note to say how much I enjoyed my first workshop last Thursday on wood carving. Everyone was very friendly and welcoming, and the food was wonderful. Jane (Lewis) – Wood carving.

Richard joins me in sending you a big thank you for the great atmosphere at the Cycle Cafe that contributed greatly to a very successful day for us. We will continue to check out your forthcoming programmes. Bob- Cycle strip and rebuild.

What another great day! It was lovely to see you again and to enjoy a
super lunch in your garden. We were so lucky to enjoy Heathers tuition
for the day....another 5 star rated workshop. Thank you so very much. – Betty – Rag Rug Heather Ritchie


Just a quick message to say how much I enjoyed the workshop last Sunday - what a lovely place you've got there! I will certainly be back for more and will be highly recommending your workshops to everyone I know. Morag – Wire hens

I just wanted to thank you for a lovely day on Sunday. I really enjoyed making my hen but more than that, loved the surroundings. Your attention to detail was wonderful as was the food (I'm normally such a fussy eater but really enjoyed the soup & pudding idea). I shall definitely be looking to book another course Andrea – Wire hens

Thanks so much to you (and Pip of course) for the wonderful 3 days carving course - It was so good and I was amazed at what we all managed to achieve in that time! My husband was very impressed and now I can't wait to get the chisels etc to finish the project. What a beautiful place you have and the food was fabulous – can't wait to come again – the programme is very exciting. Lyn – Stone carving

A FAB day as ever!!!! Mum really enjoyed it, which was especially nice as it was her birthday prezzie from me and my sisters. Although both sisters are far more arty than me, neither was able to accompany mum on her day. So despite me being the least arty person in our family and much to Margaret's credit, even I enjoyed it all and was able to come away with some idea of what to do - so much so I'm actually going to take some water colours and paper that mum left behind away on my hols next week!!!! Cath Rowlandson
Posted - December 2010 Re Willow Angels Day

Just wanted to say a huge thank you for the fantastic day out yesterday for Jo and I at the Willow Angel workshop. We had an absolute ball and your hospitality was amazing. What you have going there is utterly inspiring and long may it continue! We both look forward to coming back again and again to do different things and I

will certainly be bringing back others who I know would love it too.

And although it was quite a drive from Leeds, the scenery coming up yesterday morning was stunning and a real bonus.

So many thanks again, take care of that knee and have a very happy Christmas and a PROSPEROUS New Year!
Posted 19.08.10 re Wire Chickens Day

Wonderful day, patient and skilled teacher, magnificent food, glorious views, good company and a chicken to take home. What more could you ask for? Do se this accolade in your publicity should you want to I will be back! BW Sheila

Thanks for those. I had a great day and my heron ( Horatio ) now has pride of place in my back garden. Looking forward to my next workshop - sorry to have missed the jewellery day Regards Pam

Thank you for sending the photos which look great. I really enjoyed the day and finished my 'rag cushion' a few days later! Many thanks for a memorable day. Regards Janet

Many thanks for this note and for sending the link to your facebook page. I think you captured the event really well. I really enjoyed my day and look forward to returning to Greystoke in November.
Posted re Billy Showell Day July 2010

Hi Annie.. I just want to say a big thank you for giving us such a warm welcome at Greystoke, and for providing us with such delicious lunches, and coffees, and afternoon teas. I enjoyed the classes with Billy immensely they were great fun and I came away feeling very inspired. A big thank you also for sending me the link to look at the photos you took of us all. It is great to look back and remember the two days we spent with you and Billy.

I am really looking forward to attending one of the workshops again next year. I'll be in touch again after Christmas. Wishing you all the best and thank you once again.
Kindest regards Christine.
Posted 15 June re Willow Hares with Phil Bradfley

Hello Annie
I just wanted to say a BIG THANK YOU.
I had to rush off to get my train yesterday, so I didn't get a chance to thank you properly. I really enjoyed the willow hares workshop and will definitely be back for another (though I'm not sure which yet, as there's too many to choose from!).
It was such a great environment to learn in; the lovely barn; the informal atmosphere; your beautiful garden; delicious food; and somewhere to park my bike. (Also it's so refreshing to be somewhere cars don't come first and people who choose to cycle, rather than drive aren't thought odd). Thanks again. Caroline x


---------------------------------------------------------

Love the photo and my hare - he's sitting proudly on my doorstep. What a fantastic day: I'll definitely be coming up again! How do I tag that photo and put it on my own profile? I'm going to be recommending your workshops now wherever I go! Love Tess


---

Posted 7th May 2010
First of all i'd like to thank you so much for your friendly welcome last sunday morning/afternoon, ive been telling everone in my shop and cycling club to go and visit you for the best conversation and coffee with a side of the finest flapjack iv had in a while. Oh yes i must not forget to say who i am, im Andrew from Cycle World, Sunderland. My guys and i called in for a well deserved break on a mega ride, Sunderland/whithaven/sleep/whitehave/sunderland which was completed in just over 20hrs of cycling time with 265 miles ridden. Without your warm relaxed atmosphere i think we wouldn't of been as happy on arrival in sunderland, if theres anything we can do for you please dont hesitate many thanks. Andrew Woolley & Team Rolo Cycle world Sunderland 0191 5141974

---
Posted 7th May 2010

Thanks for directing us to the photos of the blacksmithing course.

The course was great, and Adrian's tuition was excellent. The venue and catering were hugely enjoyable as ever. Many thanks.JA

Note from Cafe ....there 's a lot more feedback re these very popular days on

http://www.facebook.com/pages/Greystoke-nr-Penrith-Cumbria-Lake-District/Greystoke-Cycle-Cafe/48236864969#!/album.php?aid=30725&id=48236864969&ref=mf
Posted Wed 24 Feb 2010 re Scones Workshop .........Dear Annie, I have only had chance to briefly speak to my parents as I away working but my mum seemed over the moon with her day, especially by the mars bar scones, i am intrigued. Thank you ever so much for making my christmas present to them a wonderful experience. Hopefully in the summer we may be doing some cycling in the lakes so i will be sure to come and find you............ it's a pleasure to support places like yours that are doing something different and interesting. Most people I have told about it have been surprised such a day exists and most have been interested so i have directed them to your website


Kindest regards .... Robert
A few of the emails we've had re the C2C Cycle Challenge July 2009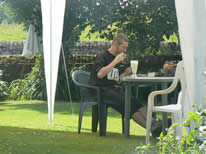 Just a quick note to thank you for an excellent meal on Saturday – I was so well refuelled that I even managed to cycle right over Hartside. You and your staff must have been rushed off your feet but you provided a very welcome break. ...Thanks ... Rob
We did the C2C challenge event this weekend. In spite of arriving late in the afternoon, you knew we were coming and the food was fantastic, as was the welcome on what must have been a very busy day!
A real treat late in the afternoon. Many thanks David Whitcombe Chief Scientific Officer DxS Ltd Manchester
Re : WIllow Sculptures 'Hens and Cockerels'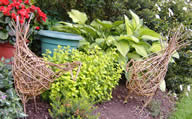 June 09
Hi Annie, Just wanted to say how much we enjoyed our day at Greystoke Cycle Cafe on Tuesday. It was all so well organised, Phil was excellent at showing us what to do - and as for your cooking - well it was delicious! I shall be telling all our friends about your courses and really hope Bob and I will get to come to another one before too long. I'm attaching a picture of "Polly" and "Anna" making themselves at home in our garden..............hope your computer lets you download it! Thanks again, Jeanette Daly. (Thirsk)
Rec April 27 09
Hi to all at the Cycle Cafe- should be called Cyclists Heaven. The Treads cycle club members stopped by on Sat 25 april 09 .during our C2C ride. We were all wet and very cold and miserable due to the weather taking a turn for the worse but stopping by your place to meet up with our support crew we were able to dry out and put some wet weather gear on we all got warm with the blankets and towels you provided and then get refueled with the best pasta in the world and a nice hot cup of tea. On top of that I was able to oil my chain with oil you left outside so even my bike was happy. We all left for Alston our over night stop much happier and warm with batteries fully recharged - without you guys and cycle cafe we may not have even got to Alston. We all reached our stop over point later that day and Sunderland the next day.What a Fantastic experience it was. A THANK YOU for everything from Treads Cycle Club in Northampton we will allways remember you and promise to stop by again when we do the next C2C. To you guys/gals and your Cycle Cafe your work is fully apprieated and allways will be . Keep up the good work. Yours very Thankfully from Colin, Chris, Bret, Lee, Sarah, Dennis, Treads Cycle Club (Northampton)
Rec Jan 09 :
I stopped off at your cafe on my ride last year on my john ogroats to lands end ride you made me the best bowl of porridge and honey was great as I needed to charge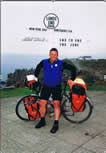 up my batteries
I made it all the way down with no punctures which was a bonus.... thanks very much for your great food and your very polite children who did a grand job serving
Paul from Gillingham dorset
Re Appointed Persons First Aid Course Nov 08
I did enjoy Friday - as well as finding it most useful - the most useful First Aid course I have ever done - usually they are so straight-laced (not me!!). The mince pies, soup and scones were a real treat! Diana
Sent after the Xmas Breads from around the World Day ( to be featured on Border TV Lookaround early Dec 08 )
....do you ever have live music at ZenCycle Cafe?

This is really to say a BIG thank you for setting up the jolly Xmas Bread Course last week and all the activity around it. I am certain that loads of people tell you how fantastic the whole experience is at ZenCycle...but I have to add my wee voice to the chorus. Thank you...you have no idea how much I enjoy and what good it does me to be in such a warm, giving, stimulating and different environment ... win win for me.

dobry noc. Naschle danou JANA
Some snippets of messages left in the Cycle Cafe Barn feedback book ..(thank you all for these ..sometimes its what keeps us going !! )
"What a great place, worth its weight in gold on any day. It's super to find small corner of sanity in this sometimes troubled world" Peter, New Zealand Sept 08
"We'd read so many great things about this place, it seemed too good to be true…now we believe every word...Thank you for capturing the spirit of everything that's good about cycling!" Joel and Janine, Cambridge, Sept 08
"And still it rained…but we were warmed by toasty beans and crunchy toast…I was dreaming your place was offering a cuppa today…what we got was so much more. Thank you cycling friends" Sept 08
"What a quirky joy!" I don't think Ive ever seen my all 3 of my kids so content as when they were presented with 3 strawberry milkshakes with fluffy cream and hundreds and thousands ! Good Luck !! August 08
"A heaven for thirsty, tired cyclists" July 08
"Fantastic scones, even better milk-shakes and astounding flapjacks…AND, we're not even doing the C2C! We probably better had!! May 08
"We're absolutely soaked having been through snow, hailstones and continuous rain when we arrived here….what a Godsend, Thank you!!" April 08
"Wonderful to find such a welcoming cycling haven. Great place to dry out and warm up after a mornings drenching rain. Haven't come across such a place for 30 odd years. Lovely grub as well." Sept 07
"What can we say? We couldn't have had a warmer welcome, welcome cuppa or better brownie." Sept 07
"Brilliant! Just what I needed – cup of coffee in a beautiful garden. Made for cyclists. Many thanks – hope to pass another time" Dave, London Aug 07
"This is the best idea for a coffee shop I have ever seen. If I could find a good location I would build one myself. Well done 10/10" July 07
"Superb. Just what doctor ordered! Life-saving tea and superb luxurious barn. Many thanks!" June 07
"What an amazing place! A cyclists dream….I am already plotting routes to pass your way again soon…" June 07
"Thank you, thank you and thank you!! Absolutely wonderful. Food and a welcome good for heart, body and soul" June 07
"An absolute godsend on a wet, horrible June day. Love it!!" June 07
"The best cycle stop ever! Thank you so much. Four tired cyclists – just what we needed!" May 07
Beginners Watercolours with Margaret Jarvis May 2008
Just to thank you and Margaret for a thoroughy enjoyable watercolours day . This complete beginner left feeling really inspired and well fed and relaxed ...many thanks..Sally
Note to Beccy Middleton ... many thanks for your honesty, your donation and very kind comments, we have framed your letter !!! .......Annie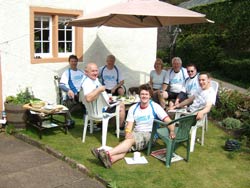 Cycle Café 2007

Thanks for your kind hospitality when we visited you on Saturday 28 April. The food was excellent, and kept the guys going up the steep climb into Alston!

Please find attached a copy of the photo you took for us, it is great. We will be using it in the PR we undertake around the event.



Cycle Café April 2008

We called in at your wonderful cycle cafe on 1 April 2008 not really committed to finishing the C2C, but just happy to see how far we got. The children were so inspired after visiting the cafe and realizing that if Katie finished she would be the youngest girl to complete it. But with a wonderfully favourable wind behind us had a great cycle over the Penines finished3 days later with a great ride along the north side of the Tyne to Tynemouth and dipped our Irish Sea pebbles into the North Sea. Katie was 7 years 353 days old and Hannah 10 years old when they finished the C2C.

Thank you for the inspiration, the welcome food and helpful advice regarding accommodation. The Russell family…Kendal

First Aid Course March 2008

Congratulations and thank you. ! You set up and ran a First Aid training day which not only saw our delegates successfully re-qualified but was highly enjoyable for them.

I have pleasure in confirming further bookings for more staff who are due for re-training and who, having heard from our first representatives how wonderful your day was, insist on receiving their updates via you.

Alasdair motivated and enthused our staff so successfully they have all taken similar courses in the past and were, to be honest, only attending yours under duress from me.

However, they have nothing but praise for your welcome and the trainer's energetic and attention-holding presentation, not to mention the fabulous lunch and afternoon tea.

Apart from fulfilling training requirements, this will obviously make life easier for me as I will not now meet with the usual reluctance when booking everyone's mandatory up-dates.

Living Willow – 14 march 2008

Thank you for a really enjoyable day! It was just what was needed- a real change from everyday hassle .And the food was wonderful!

Lesley and I are both now inspired and busy planning sites to get weaving in the garden! Phil is a good and forgiving teacher- And the sun shone!

Willow Hens and Cockerels Nov 2007

Thank you for a fantastic day yesterday, Peter and I had a great time .The cockerels are taking pride of place in our school entrance! It was so nice to meet you all .

Wishing you a very happy Christmas. Hoping to see you on the next course.
Scone Making Day
Thanks for a very enjoyable day all round, including an excellent lunch. Even the recalcitrant youth had a good time (as they usually do once overcoming the fear of the unknown). I will be delighted to recommend your hospitality to all known cyclists and seekers of quirkiness from here on.
I also enjoyed your poetry (especially the AABBA parts) and thought you might be able to stand one more of mine written yesterday on a theme discussed earlier (I was glad to find today's company mostly in agreement with me on the pronunciation):
Do I find myself all on my own?
Is my way now with tumbleweed blown?
Would most wish it begone
When I ask for a scone ...
Preferring to serve me a scone?
Good luck with this season (and the varnishing).
Best wishes, Doug
Posted 19 October 2007 - first aid course
just to say thanks for the first aid course.
I was not looking forward to an eight hour concentrated course. I have been on them many times and nearly always found them tedious and a chore. A lot of information to be put in a short time. Usually for me that meant not a lot of info retention after a couple of hours.
However the course on Monday was inspirational. Alisdair's enthusiasm shone through and lasted the whole day. Not only did my rear end not complain from sitting in the same position but there was not a single moment when I was bored.
Certainly the best first aid course I have been on and the food and hospitality was great.
Alan Alldred.
Posted 26 July 07 – Fine Watercolours with Billy Showell
.. I just wanted to thank you for a perfectly wonderful day yesterday. I thoroughly enjoyed myself and so did my three friends from the Ullswater Art Club. Billy Showell was simply terrific – an excellent tutor . I do hope she enjoyed her trip up north and found your whole set-up,, including the wonderful catering, as incredible and as welcoming as we did. Thank you again ..Elizabeth Clark, Hartsop.
Posted 26 July 07 – Café
What a rare treat. Coffee, home-made cakes and flapjacks and swarfega ! What more could a weary cyclist want? Apart perhaps from a massage. And even that is available at this amazing haven. If only I had known I would have pre-booked. And don't think the Greystoke Cycle Cafe caters simply for physical needs. There is food for thought as well - information about the Tarzan/Lord Greystoke myth and a Chinese proverb translated into Italian. (about love and money)
Thank you for the lemon drizzle cake and flapjacks, which were lovely, but more for the warmth of your welcome and for helping us to forget our aches and average speed for a brief but lovely moment.
Tom, Mike, Shane and Gavin - 4 grateful teachers from Birmingham.
Posted 19 Aug 07 – Willow Hens and Cockerels
Just to let you know how much we enjoyed our day, the hen and cockerel have pride of place in our garden. We particularly enjoyed lunch, what a tour de force, next time I am just coming for the food, never mind the course! We will be recommending you to anyone who will listen and will definitely be visiting again - many thanks again ..Jonty and Fiona
Posted 31 Aug 07 - Café
Hi Guys,
Just a quick note to say how shocked I was at the level you guys go to, to help C2Cers. I was doing the ride last week when I came across the cafe. I was totally out of juice and my bike was getting difficult to pedal due to needing some oil. As I approached the cafe I was gutted to see that it was closed, until I saw the sign - totally beyond the call of duty. Fantastic Service - Juice, Oil, somewhere to chill out, and extra help if required.
I live in Manchester, and if you left your juice and oil out (and your card stamp - mustn't forget that), the juice, the oil and the receptacles that they're in would be gone in minutes.
A one-in-a-million cafe - Thank You.
Stephen Hynes
Transportation Officer
Bury MBC
Posted 21st April 2007
Annie, Called at your cafe on 21st April 2007 at about 11.00am while on C 2 C cycle ride & enjoyed tea / cakes, very nice thank you.
Posted
Just a quick note to thank you for making four weary cyclists very happy last Friday evening. We arrived in Greystoke at around 8:00pm on our way to Penrith on the first day of our C2C trip, arriving several hours later than planned due to two punctures and a tyre blow-out coming over Whinlatter. We were delighted to find that even though we arrived a couple of hours after you closed we were still able to stamp our cards. The jugs of juice on the table were a nice touch also, although we didn't make use of them as we were still carrying plenty of refreshment. Hopefully our next visit to Greystoke will be during opening hours!
Best regards
Vince
Posted 15th March 2007
Thank you for a lovely day . Brian & I are all set to create our tree and have eaten enough cakes/puds 'til the next time! Please pass on our thanks to Phil we learnt so much and it was really good to be in separate groups (Doubled our knowledge rather than split us up!).
Christine
Posted 30th May 2007
The best cycle stop ever !. Thank you so much. Delicious flapjack- just what we needed…four tired c2c cyclists
Posted
What an amazing place- you really have spent time thinking about everything anyone could need ..we will recommend this stop to all our friends (whether looking to camp or for food )… a true oasis.
Peter and Stephen
Posted
Many thanks for making the end of our first C2C day so special. It was lovely to have such a warm welcome and lovely refreshments in a wonderful environment.

Thanks and we hope to see you on our next C2C trip!

Vanessa
Posted
A very quick email to say a big THANK YOU for the kindness and hospitality extended to my friend Kevin and I when we visited your wonderful establishment last Friday lunchtime! What an absolute pleasure it was.
Posted
Hi - just dropping a line to say thanks for the warm welcome we got in Greystoke...I have posted a thread on 'Europes most popular Cycling Website' where I have recommended you:

http://www.singletrackworld.com/forum/read.php?f=2&i=3029398&t=3029398

Thanks again, Tom & Paul (we were the two lads at about 3.00 Friday afternoon)
Posted June 19. 2006 00:24:57
Thanks for the fantastic soup and such a great welcome, hope the car
passed the MOT and that the photos I took with your camera came out ok?

David (of David Yvette Lorna & Mike on 2 Tandems fame !)

C2C 7th to 11th June 2006
Posted June 14. 2006 10:11:28:
belated thank you email for such a lovely day on Sunday, especially the early morning coffee and toast….never been so hung over for ages!!. It was a great course and I have sent emails to the surveyors to tell them to get on the July course.
I will make the effort to cycle over from Cockermouth so I can justify a slab of that special gooey cake!! Thanks, Dave and Carey
Posted May 2. 2005 13:57:57:
Thanks from Whoosh 2006 (St. Paul's and St. Saviours Churches in
Herne Hill, London for your wonderful hospitality on a very rainy day! Jonathan
Posted April 23. 2006 19:22:50:
On Saturday I did the bike maintenance workshop at Greystoke cycle cafe and learnt so much about maintaining my bike. Steve was a great instructor -very knowledgeable about lots of different bikes and very patient. A workshop to be recommended for teenagers and adults keen on biking. Many thanks and the cakes as ever were wonderful. Rosie
Posted April 6. 2006 15:26:51:
Annie, Hi - we sampled the delights of your cafe on Tuesday (30th) as 8 of us completed the C2C last week. We are all members of Tintwistle Band and a write up will appear shortly on our web page (www.tintwistleband.org). Thanks very much for the warm welcome it was much appreciated. here is the picture of our group. Dave
Posted March 28. 2006 13:07:18:
Many thanks for a lovely day - I really enjoyed the course and the delicious food! Yvette
Posted January 29. 2006 08:48:59:
Thanks for a lovely day and great food. Have finished my sample rug and raided the charity shops in Keswick for blankets ready for my next project. Hoping to fit in another workshop later in the year. Thanks, Jackie
Posted October 26. 2005 19:35:16:
And yes we did make the whole route in two days (phew - sticky toffee pudding must have helped. We shall return. Craig, Michelle, Ben the rest of the guys and our superb support team, not forgetting thanks to Orange bikes.
Posted October 26. 2005 19:34:47:
Annie, fantastic place, exceptional food, watercress soup, sticky toffee pudding wow. It really was a highpoint in our C2C trip. Would recommend all C2C riders to make this part of the trip. Cont'd above Hi Annie Apologies if feedback is slightly belated. Super tray bakes and such a friendly welcome. Kitten pic is great. Your cafe is a 5 Star Plus establishment. Who could cycle across the country and miss you? See you again sometime. Stuart.
Posted August 22. 2005 16:28:30:
Fantastic cakes. Portions very generous! Gave us enough energy to reach PH same day. Mark & Marion.
Posted August 16. 2005 18:58:27:
Hi Annie, with all these satisfied customers we can't wait to get there and try it for ourselves. Magda & Alan
Posted August 05. 2005 20:05:59:
Enjoyed playing with the gorgeous kittens and eating the yummy cakes! Best cafe ever!
Posted July 31. 2005 18:02:33:
Absolutely lovely cafe, great service and super yummy cakes. I would recommend it for anyone to visit and will definitely be visiting again. 5 star award!!
Posted July 30. 2005 19:45:34:
Really nice food and good service-the soup and roll was delicious. Thanks a lot - I'll definitely call again.
Posted July 04. 2005 12:52:07:
Excellent late afternoon tea and homemade cakes on Saturday, just before coasting into Penrith. Beautiful setting and very friendly service. A photograph taken of our party at the cafe is on its way. Highly recommended!
Posted July 02. 2005 15:02:32:
The food was fantastic! especially the cakes, and the garden was beautiful. I'd definitely recommend this cafe. staff were very friendly-will visit again soon.
Posted June 27. 2005 21:30:09:
Hi Annie, You are getting lots of great feedback via my C2C Guide website - keep up the good work and I will get out to visit sometime soon - honest! Dik
Posted June 27. 2005 21:02:00:
We visited at the weekend and the cakes were great. very friendly staff from the Burns party.
Posted 17 Nov 2006 :
Dear Annie, Re - Beautiful Breadmaking Machines Workshop Many thanks for an informative and enjoyable morning. I look forward to your future workshop lists.Best wishes Anne