Body Balance outdoors @ Greystoke May June July 2011

For the May June and July the Cycle Cafe will be a licensed venue for "Les Mills BTS" Body Balance Classes.

The classes will be led by experienced tutor Carolyn Brown from the North Lakes Gym in Penrith

and will happen (preferably) barefoot on a quiet lawn at the Cafe.

However the workshop studio is available if weather dictates, though booking a space by phone is advisable 07984 205988

If outside - just turn up

Cost = £4.80 per session

Body Balance, is a brilliantly strong, non aerobic workout, great for core strength, that people of varying fitness levels can benefit from.

It is a combination of Yoga,Tai Chi and Pilates carefully choreographed to relaxing music.

Classes will hopefully take place in the open air, usually barefoot, on the grass

in a tranquil location with swallows flying overhead, We can use the workshop studio if the weather is wet -

IN WHICH CASE PHONE to book yout space

Wear loose fitting or stretchy gear.

If you have any questions regarding these classes / weather conditions / availability

or would like to book your own private session (s)

please phone BTS Qual tutor Carolyn Brown 07984 205988

Here's a link to an indoor class http://www.youtube.com/watch?v=w_-FB7oVH_c -

,

Classes
Saturdays 10am
Sundays 10am
Mondays 7pm
Thursday 7pm - this class will be outdoors only
Next two weeks timetable below:
Suns 10am

Mons 7pm

Thur 7pm

Mon 18th July

cancelled

Sat 23rd July yes

Mon 25th

Yes

Thu 28th June

Yes

last class
If we need to cancel a class we will try to keep you informed of any changes . . .
Changes will be advertised on our facebook page
http://www.facebook.com/pages/Greystoke-Cycle-Cafe/48236864969
We can also send messages to your mobile phone
See below for info on : How to receive messages about the classes, parking, location, arrival time and Cafe:
1. Keeping you informed
We prefer to run the classes in the open air - but are lucky enough to be able to use the workshop studio if weather dictates
To register your mobile phone, please send a free text message to 86444 saying follow bodybalancebike
(that's a space between 'follow 'and 'bodybalancebike' )
This is all you have to do, everytime we send a message you will get it .............and if at anytime you want to cancel this service
just send another text stop bodybalancebike - its free and simple. See below for further explanation
(Please note you do not need to set up an account, so ignore the response texts inviting you to join Twitter !)
2. Parking
. . .is very limited at the Cafe- please park carefully down towards the village as per map below and walk up 150yds , or cycle !
3. Where to park
As you approach the Cafe from the village, before the high wall, park on the LEFT where the road widens & marked pink.
Although an established footpath and a quiet rural area - the road bend outside the Café can be hazardous as
cyclists often come around it from the north fast and quietly - therefore
Always walk towards the Café keeping to the LEFT HAND side of the road for greater visibility.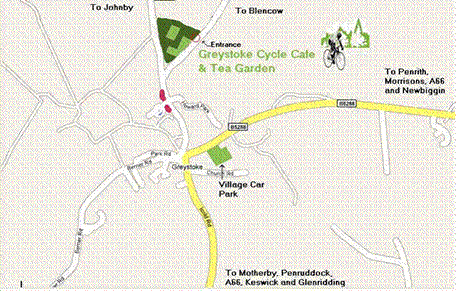 3. Please arrive 10 mins early
. . . if this is your first exercise class here
4. Cafe
The cafe will generally be open for teas and coffee (and cake) after the class.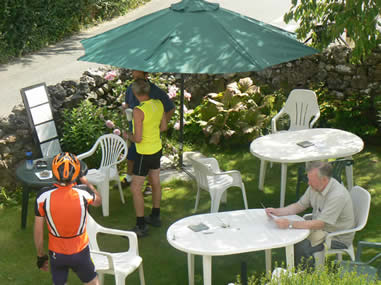 You'll Love It - Honest
and thanks to Helen T who has furnished us with the following explanation for a Twitter 'fast follow ' definition
So to set up to follow the bodybalancebike Twitter page on your mobile without your own Twitter account then text 'follow bodybalancebike' to 86444.
This should work for UK Vodaphone, Orange, 3 and O2 numbers.

The commands you can use without an account are listed below (I've lifted this direct from Twitter's website).

* Follow [username] - To receive updates from a user send Follow along with the username to 86444
* OFF or STOP or LEAVE- You can turn off receiving updates from the user that you are following by sending OFF or STOP
* ON - Sending ON will turn on device updates and you will start receiving tweets again.
* WHOIS username - Retrieves the profile information of the user.
* STATS - This command returns the number of people that you are following.
* GET username - This retrieves the latest update that the user has posted.

this info came from
http://support.twitter.com/groups/34-mobile/topics/153-twitter-via-sms/articles/218610-how-to-get-updates-on-your-phone-without-a-twitter-account
(but note that it contains the US 40404 number just to confuse you)


Thankyou Hattie for this : )

---
'Also in Greystoke'
As a villageGreystoke has a great deal to offer
it has its own website encompassing the many facilites and plenty of accommodation within the village & surrounds...