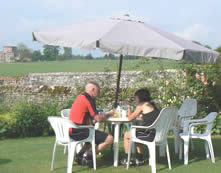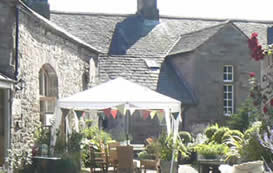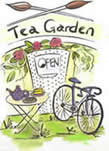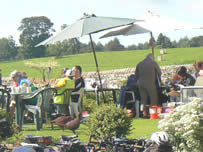 Greystoke Cycle Cafe Tea Garden
*NEW UPDATE* Cycle Cafe Tea Garden closed until Fri 2nd June 2017
We regret that due to various delays in building works, the Cycle Cafe Tea Garden will be unable to open until Fri 2nd June. We are sorry for any inconvenience caused.
The limited workshops taking place over this period will be unaffected.
The Cycle Cafe is actually a pretty walled Tea Garden
with gazebos and an unheated rustic barn for shelter

(depending on how you arrive)

Season opening times and duration for 2017 tbc

due to delayed building works

We're open to Cyclists travelling by bike everyday

10-6pm in season

and any C2C /E2E cycle support vehicles you have

are welcome to park in our driveway.

Once the Tea garden is open, the self serve Cyclists Barn will be up and running and will always be available to you in season 10-6pm for hot and cold drinks & cakes,

if you arrive by bicycle.

We are an official

Sustrans C2C stamp station .

( kept in the Cyclists Barn)

Once the Tea Garden is open, we 'should' be able to serve you with everything we have from 10-6pm every day.

We will definitely be able to serve you with everything we have Friday afternoons Saturdays

& the second Sunday each Month

Why? Midweek passing cyclists trade is sporadic and we're away the crowds in rural Cumbria so it can be very quiet - in order to make business sustainable we run 'Quirky Workshops to keep us busy. If we have a Workshop running and only a few staff there might be a short wait before we can serve you - especially if we're in the middle of serving lunch to a large group. On the plus side if you arrive at 1.45pm there may be some delicious puddings available. We don't mind you calling to let us know you re coming 017684 83984

ATTENTION GROUP RIDE ORGANISERS

it helps if large groups ie (20+) give us sensible notice if plannning a lunch stop, we're unique in that this is our family home

and so are often busy with other jobs - thank you for trying to understand how we work.

017684 83984 or email annie@greystokecyclecafe.co.uk

You should find the barn useful, with towels, blankets, oil, bike pump, (we also have a bike stand you could borrow ) maps,

free juice for your bottles etc and you can sit inside or out in either garden

under umbrellas or gazebos and enjoy the tranquility of the garden.

There are amazing views of Greystoke Castle and parkland, (not available from anywhere else in the village)

watch the racehorses riding by and the lambs playing.

We've spare inner tubes and puncture repair kits for sale, an assortment of tyres and also

C2C guide book (Richard Peace's Excellent and impartial C2C guide) and Sudocream for sale .
'Open to ALL OTHERS - ie 'Walkers' ( from opening time' til end of August )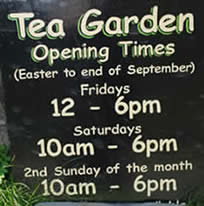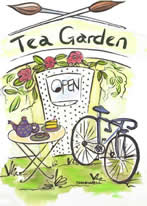 on Friday pms, Saturdays & 2nd Sunday of month as above
These core opening times are chosen as the C2C cyclists pass through Greystoke on these days -
so we will be here with fresh food 'at the ready'
As a Cycle Cafe we've no car parking facility and are not permitted to have cars parking randomly around the cafe on the unmarked lanes. Our planning consent limits us to those on bicycles or on foot for this reason. These roads are deceptively dangerous - please use the village car park 300 yds away and help us to preserve the character of the village as well as good neighbourly relations - thank you.
There are other Tea rooms in the area, namely Upfront Gallery nr Unthank, Skelton or
Stainton Farm Shop are both with ample car parking just a few miles away if you feel unable to walk.
The flat road walk from Greystoke village C/Park (300 yds - see map below)
is interesting. It takes you around the Castle walls, perhaps alongside
strings of racehorses from Greystoke Stables (see below). By all means drop off those not able to walk -
sometimes disabled parking may be available
In warm sunny weather we may be able to open everyday during
Whit week and School Summer holidays, other duties allowing.
Thank you for your understanding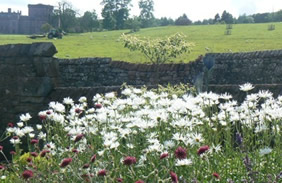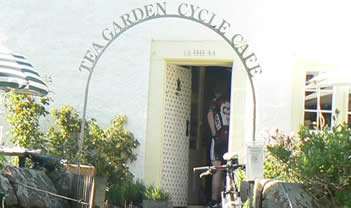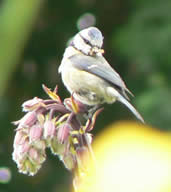 Open since 2005 we are a small family run establishment and over the years we have evolved primarily to meet
the needs of C2C /other cyclists in conjunction with our Quirky Workshop guests.
We have gazebos and a rustic unheated barn for shelter!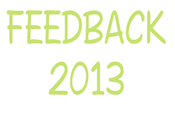 Our location Greystoke Cycle Cafe, Greystoke, Penrith CA11 0UT
We are 5 miles West of Penrith & the M6 J40 & 5 miles North of Ullswater just above the A66 -
We 're directly on C2C route 300 yds beyond villlage green.
Google Location here

PARKING INSTRUCTIONS For those attending a Quirky Workshop
As a Cycle Café we have only limited parking in our driveway and ask all who can to park as below to help us preserve the character of the village.
New Parking Info – please don't park outside the new bungalows!
There are approx 4 or 5 roadside parking places some 150 yards before the Café at the end of a high Castle Estate boundary wall; here there is a pavement 'leading to nowhere' and the road widens on the left, marked below in pink. If these places are taken then we may be able to use the first three bays within the Castle Gardens parking on the same side as the Café. This is because the residents of the new bungalows understandably prefer to park their cars directly on the road in front of their houses (instead of using their allocated spaces within their driveways to the end of the new houses) ) so we are asked to keep these free. Also, please don't park too close to the corner splays as residents need to be able to negotiate out of the driveway. Thank you.
Greystoke has a large village car park (with recycling facilities in paper and metal) approx 8 minutes away, as shown on the map. It is close to both the shop, the pub, playing field and summer open air swimming pool and you may well meet some racehorses on the roads past the Castle entrance as you walk to the Café - this is approximately 350 yds of flat walking.
If you feel unable to walk please arrange to be dropped off or let us know so that we can reserve you one of the 2 parking spaces here.
PLEASE PLEASE PLEASE PLEASE always walk towards the Café on the wrong ie LEFT HAND side of the road for greater visibility. Cyclists may ride around the road bend towards you both fast and silently . . you won't hear them so it is potentially very dangerous to walk facing the traffic.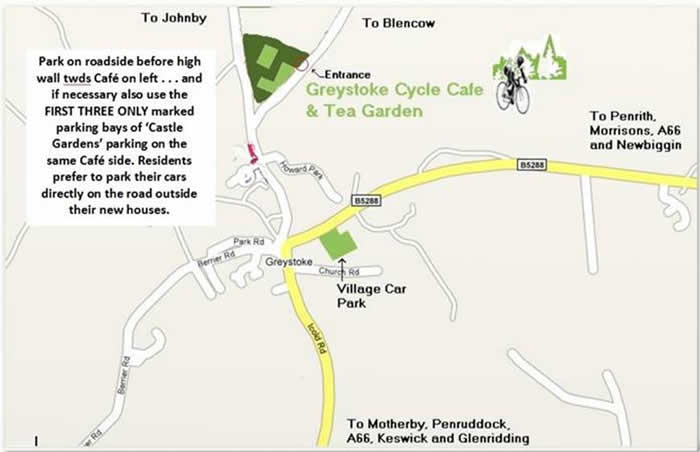 Train ~ Penrith station 5.5 mi. (£10-£15 in a taxi-cheaper if you prebook - Moorside Taxis 01768 899066 )
By Bus -Sadly there is now no bus connection to Greystoke except on a Thursday - pls check