Art Courses
Beginners Intermediates Masterclasses Pen & Wash Watercolour Wildlife Botanical SBA Landscapes The Painted Horse Far Eastern Brush Mackintosh Days Painting on Vellum
The Charcoal Horse
We are pleased to welcome again several well known visiting Artists to Greystoke Cycle Café
Each tutor arrives in the knowledge that some students may be able to attend only one of their days, thus courses will be structured
in such a way to accommodate those attending any combination of days. All courses are suitable for all abilities.
All the tutors are very experienced in mixed classes and even those with little previous relevant skills can be confident of a rewarding and highly enjoyable day.
Print off the 2011 leaflet - early 2012 coming soon


The above link returns you to the main Quirky Workshops page for dates and prices . Day courses range from per day including a lovely lunch
EACH TUTOR has a DIFFERENT recommended MATERIALS LIST which may be found within the relevant tutor section - (except Beginners see above)

Tutors visiting Greystoke
(click on pictures)
Beginners & Intermediates Watercolours / Pen & Wash

Margaret Jarvis

Eastern Brush Painting

Irene Sanderson

Wildlife Illustration

Simon Williams

Painting and Drawing

the Horse

Alex Jacob-Whitworth

4 places on each class for £40 are

available to those under 18

Painting on Vellum

Colin Swinton
---
there are many more photos

on the adjacent photo link -

you will then need to search

the photo albums on the main page.
---
All Art Days take place in our converted workshop barn or in the garden if preferred and start at 9.30am
They include home made biscuits, all refreshments, a lovely 2 course lunch and a cream tea and full details of times, dates and costs
can be seen on the main table on the Quirky Workshop Header page.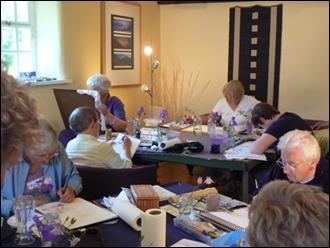 Where to Stay ...
If you are travelling from afar there are some lovely places to stay around Greystoke and its environs –

please see our website links page at the head of this page –or see our village website -

Stafford House (within the Greystoke Castle grounds) in particular offers lovely 4* accommodation to suit all budgets from £24 per night

(posh bunkhouse) upwards to house b &b and is very popular - see link to right http://staffordhouse.website.orange.co.uk/
---
Greystoke Cycle Cafe looks forward to welcoming the following Art Tutors for 2012 - to be completed
Introduction to Watercolours and Pen and Wash with Margaret Jarvis
If you are new to watercolours and would like to learn we can highly recommend Margaret Jarvis, an outstanding local tutor for Beginners and Improvers. Margaret comes with a wealth of knowledge and experience and will confirm that you don't need to be able to 'draw' to paint with watercolours. It's all about technique. Although nearly all of our classes and tutors are suitable for all abilties , if you would like a really good in depth start in watercolour techniques then Margaret course is ideal.
You will then feel infinitely more confident about attending any of the painting classes here , which actually attract a wide range of abilities
.
Those students who paint like the tutors have probably practised for hundreds of hours. They were also beginners once
CLICK on any of the PICTURES for more pictures of one of Margaret's recent art classes

Margaret Jarvis is a local artist who has been teaching watercolour classes

since the first Quirky Workshops at

Greystoke in 2006.

Margaret is adept at assessing the abilty of those in the class and adjusting her teaching accordingly. She teaches both watercolours for beginners and improvers and

also Pen and Wash

Pen and Wash is the technique of using watercolours (the 'wash') and then picking up and

creating details using an ink pen.

Several of these photos should

give you an idea-

she teaches using a great variety of

tried and tested methods.
---
The Painted Horse ~ The Charcoal Horse with Alex Jacob-Whitworth, a nationally renowned Equine artist
Alex has exhibited her work

at the

Society of Equestrian Artists

in London,

the Association of Animal Artists and has work in private collections both in the UK

and abroad

She has taught for and to the Society of Equine Artists,

Painting the Horse

A nationally renowned equine artist Alex has not

only has worked closely with horses throughout

her life, she holds a Masters Degree in Art and

still works daily as an equine therapist

This physical intimacy and extensive knowledge

of the horse, its physiology and form, its gait

its movements and personality is perhaps the

reason her work is so remarkable.

Painting, owning, training, competing and working

within this close physical context

maintains her daily connection with the magic

of the horse and must be what equips her to paint so well

as the adaptable artist she is today.

Each study carries movement and fluidilty,

she captures light and mood effortlessly.

It is the freshness of approach, vibrance and energy,

as if the animal is very much alive and about to

step out from the canvas.

A day for those who love horses,

and would love to try to depict them on paper but feel they need guidance. Try working in charcoal or pencil or paint, Alex will help you choose, to discover which style and

medium you may prefer .

Also an excellent teacher, she will help you understand the way the horse moves, reacts, which muscles are at work and where the light falls

She brings with her extensive work sheets to start you off.

The beginning of the day is highly structured for those who need it to aid understanding in the things that matter.

New for 2012
---
Botanical Illustration with Kay Rees Davis SBA
Kay is also proud to be a Fellow of the

Chelsea Physic Garden Florilegium Society.

Kay has 5 paintngs in the Lindley Library of the Royal Horticultural Society, and two more in the Hunt Institute of Botanical Documentation, Pittsburgh, USA

. The Shirley Sherwood Collection has a picture of Ivy, and there are several paintings in the archive of the Chelsea Physic Garden, London

We are very much looking forward to Kay joining us again next summer in Greystoke. This is her first visit here and we hope she will come again in future years.

I found her work quite charming when looking through some of the artists featured

in The Highgrove Florilegium .

Kay is a widely acclaimed artist who has been awarded 8 medals by the Royal Horticultural Society, four of them Gold . Working for these was an inspiration for her, exploring in character and reproducing details of different plants. She has enjoyed meeingt the people who grew the plants and who were more than generous in imparting their knowledge to her on those plants habits and nuances.

This popular course ran last year, see link below for pics

Kay has work in several collections, the most prestigious being

The Highgrove Florilegium.

the residence of HRH the Prince of Wales

This a collection of plants growing at Highgrove,

Leading botanical artists were invited to The Prince's organic gardens at Highgrove, and captured in watercolours the plants and trees from the 15 acre estate which have been grown under The Prince's stewardship. Click here to view a gallery.


The work was submitted for selection by an expert panel, and the resulting collection shows a cross section of the Highgrove fauna, from trees and flowers, to vegetables and herbs.
---
Wildlife and Botanical Illustration with Simon Williams SBA
Using Watercolours and / or Gouache

As Simon excels in both botanical and wildlife illustration and his techniques,

hints and tips are common to both, these three days at Greystoke will be structured

as below to allow maximum flexibility

All days require a bit of patience as this course requires a tight rather than loose style of painting but is open to all levels.

Gouache - in very simple terms - is watercolour paint with a white base added.

Day One Botanical Illustration in Watercolours, and at times with Gouache optional

You will using live plant specimens that you may bring along or choose from the Cycle Cafe herbaceous border and gardens.

The Botanical course is set out to learn various methods of using Watercolours - at times with gouache- in illustrating a botanical subject successfully. Gouache can be used to build up a more opaque finish and does allow you to be able to work light colour or white highlights over the top of darker ones if needs be. It very much depends on the subject matter as to which technique is most appropriate.

This course will help you look and observe details, mix colour and application techniques. Whether you use Watercolour or Gouache you will learn about using a dry brush technique to render detail and texture to your botanical painting. Colour swatches are also important and you will make colour notes etc to keep as future reference. Doing a swatch and practising colour mixing is the best way to progress and be able

to look and know instinctively which colours to mix.

Day Two Wildlife Illustration using Gouache

The group will be working from photographic reference therefore please bring any pictures you might be interested in painting birds or animals.

A small selection of colour copies of wildlife subjects will also be on hand. If the actual drawing of a wildlife subject might put you off please feel free to trace the outlines before applying paint - many many people do this - the class is about learning painting techniques not drawing ability.

Day Three A continuation Day for Day 1 and 2 in both Botanical and WIldlife Illustration -

Particularly useful if you have chosen an ambitious subject to paint or would simply prefer to continue under Simon's watchful eye and learn from ongoing demonstrations. It is always nice to complete a work of art with the period of a course .

Of the different elements of watercolour painting colour mixing seems to produce the greatest anxiety for students. The mixing of dark colour in particular in order to create convincing shadows often leaves students perplexed.

Through demonstration and individual tuition I will show how an understanding of colour relationships can provide the key to confident colour mixing and the painting of convincing three dimensional images.

Please note that there is not always a big difference in the styles of painting between Gouache and Watercolour. Quite often Gouache is best started of fairly light – mid tone as in a watercolour technique but then apply the Gouache thicker and more opaque in the later building up stages.

Both courses require a precise rather than loose style of painting but are open to all levels and the only requirement is that the wildlife course is done using the medium of Gouache

This popular course has been running for several years

photos can be seen on

the below link

PLEASE CLICK below for

Simon's equipment list

Tutor's Profile

Simon Williams is a professional Illustrator running SW Illustrations specializing in Natural History and Botanical subjects and is listed in the 33rd Edition of Who's Who in Art.

see his website http://www.swillustrations.com

He trained as a Natural History Illustrator at the Arts Institute, Bournemouth.Work has been published in 'The Art of Botanical Painting' on Wildlife Explorer Cards, Ocean Life work and a book on Wildflowers.Illustrations have been awarded the Silver – Gilt medal from the Royal Horticultural Society and Certificate's of Botanical Merit from the Society of Botanical Artist.

Simon is a tutor for the Society of Botanical Artist distance learning diploma course.

IIllustration skills will be covered in the course from applying first colours to working dry brush technique for building up detail.
---
Painting in the Style of Charles Rennie Mackintosh . . .with Colin Swinton
Plant pattern and design in pencil and watercolour

The way he depicted his floral subjects

was unique and unmistakably Mackintosh .

A bold outline in pencil

followed by a liquid wash of colour

selective painting of the subject

leaving many areas in pencil with traces

and little evidence of shading or depth

giving the distinctive, flattened

appearance of the

Charles Rennie Mackintosh Botanical

Mackintosh combined his skill as

both watercolourist

and designer to create powerful images.

Using this simple approach,

we shall look at

his use of a number of devices

to flatten

space and recreate

these superb images.

These days are especially suitable

for beginners as well as the experienced

- tracing is an option,

the process is quite structured

and a small amount of painting creates

a surprisinglly effective result

-a good case of less is more

Pattern and design are an integral part

of plant material,

to reveal this more clearly we shall be looking at the

approach that Charles Rennie Mackintosh used to

create his Flower Drawings.

This course has been running for the past 2 years and photos can be seen on

About Colin Swinton

In addition to his own work where he concentrates on botanical and landscape painting,he holds workshops and summer schools all over the country

His skills as a teacher are highyl regarded and his students have been awarded gold , silver gilt and silver medals for their paintings by the RHS on many occasions . Colin has over 20 yrs of experience teaching students who have a wide trange of skill levels.

Demonstrations are an integral part of his approach, which combined with group and individual tuition make the majority of his courses ideal for beginners aswell as those with more experience, who wish to improve their observation, techniques and painting skills
---
WATERCOLOUR LANDSCAPE ~ Painting on a Textured Surface with Colin Swinton
Tuesday 17th July 2012

Suitable for beginners and

experienced watercolour painters.

Watercolour Landscapes

Painting on a

Textured Surface

An exciting approach to painting in watercolours. . In addition areas can also be easily lifted out

and brought into the foreground

giving great flexibility

in creating your painting.

As the primer becomes waterproof when it drys,

the layers of paint that are subsequently applied

are shed off any raised lines and marks, producing

intriguing patterns within the washes.

We shall prepare a textured surface with acrylic gesso

primer on Bockingford Not surfae paper or

another special paper-

but not normal surface watercolour paper.

Equipment list to follow

Colin will show you the various ways to apply

this primer using fingers, palette knives, or brushes etc. , to create different areas of texture upon which to paint.

This is a new course for 2012
---
Painting on Vellum - Studies from Nature - with Colin Swinton
What is Vellum?

Vellum is a translucent material produced

from the skin, often split, of a young animal, that has been soaked, limed, and scudded (a depilatory process), and then dried at normal temperature under tension, usually on a wooden device called a stretching frame.

For something quite different . .

Monday 16th July 2012

Painting on Vellum

Vellum is a unique surface to paint on -

not only accepting the finest of brush marks

but also giving real richness of colour and

glow that is unachievable on paper.

It has been used by many artists

past and present :

Rory McEwen, Marie Angel,

Brigid Edwards and Kate Nessler

are a few that have worked on this

beautiful surface.

Students will be guided through preparing the vellum

(nothing gruesome is involved)

and the techniques of painting, by demonstrations

and individual tuition.

Vellum vs. Leather ?

The important distinction between vellum and

The distinction between vellum and parchment has been made in several different ways, and no one definition can be considered correct, but vellum has always denoted the better quality.

In Europe, from Roman times, the term vellum

was used for the best quality of prepared skin,

regardless of the animal from which the hide was obtained, calf, sheep, and goat all being commonly used

We shall aim to produce

a small detailed study.

Flowers or seed-heads make

excellent subjects or items s

uch as pebbles, shells, feathers,

butterflies, beetles, lichens, twigs,

leaves or individual fruits.

Although beginners are welcome,

this workshop is more suitable for those with some experience of watercolour painting.

Thank you to Patricia Mitchell who has kindly provided us with photos of her

vellum paintings on this page

whilst with Colin Swinton.

and finally . .

British Acts of Parliament

are still printed on vellum

for archival purposes

(thank you, Wikipedia)

This is a new course for 2012
---
Ink, Watercolour and Gouache on Coloured paper with Colin Swinton.
Click below for the

Equipment list PDF

Ink, Watercolour and Gouache on Coloured paper

This combination creates a simple but exciting approach to watercolour painting, superb for a whole range of subject matter.

The image is first drawn with Indian ink, using either

a brush or a stick, onto coloured paper.

This is usually some form of pastel paper, in a variety

of mid toned colours.

Fairly loose watercolour washes, wet against wet,

are then applied.

Finally white gouache is then used for any lighter elements within the picture, such as the sky, light buildings and highlights.

The finished paintings , using this technique ,

employ the whole range of tones from black, through

the mid-tones to white, giving them real punch and drama.

The use of different coloured papers is ideal for creating

different moods from the same image.

It is also helpful to those who often end up with

pale watercolour paintings.

Course in 2012?

No date is currently set for 2012

due to pressure on timetable ,

however we can organise a course . . .

please contact us and we can add your

name to the list and organise a day for the autumn.

Equally, this appies to many of our courses.
---
Far Eastern Brush Painting with Irene Sanderson Flower Studies
Far Eastern Brush Painting is quite unique in the vast range of

'painting experiences' available to try nowadays.

On a general scale I am told the most forgiving mediums are oils and acrylics- mistakes are easily corrected by the shameless 'painting over the top ' technique ...and conversely watercolours, being translucent are very much less forgiving, mistakes are harder to rectify.

A great many botanical illustration classes involve what is termed a 'tighter' method of painting , aka exact, precise and meticulous. There again some watercolourists do have a 'looser' style, where painting is slightly faster and somewhat more relaxed – such as the very popular Billy Showell who has produced many books and videos and visited Greystoke several times.

Enter the Far Eastern Brush, the black ink block and Xuan paper plus skilled tutor Irene Sanderson. (herself a master of Eastern Brush with an impressive 40 years of professional experience behind her) and you have the ultimate in minimal stroke painting, (continued)

click on any of the pictures to see the full resumee of this day
---
Far Eastern Brush Painting with Irene Sanderson - Animal Studies
A day of learning the techniques and studying

the background to these favourites of Chinese and Japanese paintings.

Be totally inspired by this wonderful artist, herself a pupil of a Japanese master & well known for her ink painting and watercolour, and try your hand with this lovely and different medium.

The beginning of your days with Irene will be learning and practising the methods used in Eastern Brush Painting. Irene will do several demonstration that are usually auctioned off at the end of each demo for local charities.

Irene provides all the equipment, special brushes, ins and Xian paper necessary for this day.

Clcik on any of the photos to see further pictures
---
Billy teaching at Greystoke July 2010

A Botanical Master Class with …

Billy Showell BA SBA

'My work aims to give a modern edge to botanical art. Simplicity, elegance and beauty inspire me together with an occasional touch of humour.

Although botanically illustrative, my work is modern in its approach and is primarily about creating an arrangement that symbolises the simplicity and beauty of the natural world.

Design and composition are therefore as important to me as the true colours and shapes of the subjects.'

Please click below for

Billy's materials list

Billy will be travelling from her home in Kent. She has tutored at Greystoke Cycle Café on a number of

occasions and continues to delight all those who attend. More of her work can be seen on her website

www.billyshowell.co.uk
| | | | | | | | |
| --- | --- | --- | --- | --- | --- | --- | --- |
| | | BILLY SHOWELL MASTER CLASS JUNE 09 | | | | | |
| | | | | | | | |