and another UPDATE!
...the Cycle Cafe Tea Garden hopefully re-opens week of Tue 20th June
We regret that due to ongoing building works the Cycle Cafe Tea Garden opening is further delayed. We are sorry for any inconvenience caused.
The limited workshops taking place over this period will be unaffected.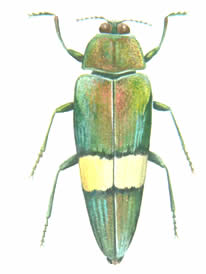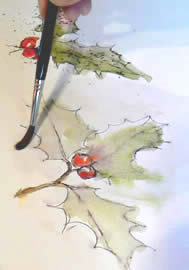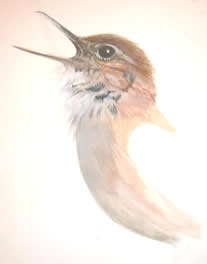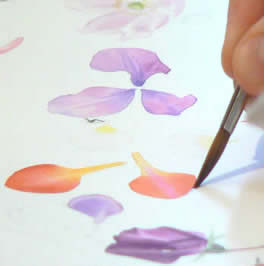 Art and Painting Courses 2017
Intermediates Beginners Masterclass Pen & Wash Watercolour Wildlife
Botanical SBA Acrylics Landscapes Painting Trees Painting Water
All tutors are very experienced in mixed classes and even those with little previous relevant skills can be confident of a rewarding and highly enjoyable day.
For students travelling long distances wishing to stay overnight in Greystoke there are several lovely B&B's in the village aswell as some self catering accommodation. Greystoke can also offer a
village shop, a lovely church. a racing stables, an outdoor heated summer pool , a pub serving lovely food and a Castle with wonderful walks on permissive footpaths - please see our links page
HERE or the village website www.greystokevillage.co.uk
First Steps in Watercolours or Pen & Wash

with Margaret Jarvis

Botanical Illustration

Watercolour paints

or gouache

Simon Williams SBA

returning March 2017

Wildlife Illustration

Watercolour paints/ gouache

Simon Williams SBA

returning March 2017

Inroduction to Watercolours

First Steps in Botanical Illustration

with Marion Wilson SBA
Wildlife or Botanical Illustration Days with Simon Williams SBA Watercolours and / or Gouache
£76 daily inc a lovely 2 course lunch, refreshments and cream teas etc - Botanical and Wildlife illustration is demonstrated on each day - students may choose.
A highly accomplished artist and teacher in both botanical and wildlife illustration SImon is now director of the SBA Distance Learning Programme. This course is suitable for all levels

DRAWING your subject

If the actual drawing of a wildlife subject is a worry - you'll be glad to know that many students

trace the outlines of wildlife subjects. They can then concentrate on applying paint correctly.

This course is about all aspects of correct painting techniques, not learning to draw.

Those who've been with Simon before often book several days and work on their preferred

subject throughout (wildlife or botanical). Simon is relaxed and flexible and this is not a problem; he will demonstrate both on each day as required. Travelling from his Somerset home, Simon is an extremely popular

course tutor for the SBA distance learning course.

Botanical Illustration in Watercolours

( Gouache optional)

Fri 10th March, Sat 11 March Sun 12th March 2017

Any combination of days is possible

£75 per day 9.30am to 4.30pm

choose your days and choose your subject - Botanical or Wildlife -

you may interchange between both and demonstrations are given in both

Using live plant material you may bring or choose from the Cycle Cafe

gardens, this Botanical course will ensure you learn the various methods of using Watercolours - at times with gouache- in illustrating a subject successfully. Gouache can be used to build up a more opaque finish and does allow you to be able to work light colour or white highlights over the top of darker ones if needs be. The subject matter in many cases dictates which technique is most appropriate, and Simon will explainall he knows in this field..

You will learn to look and observe details, mix colour and master application techniques. Whichever your chosen medium you will learn to use a dry brush technique to render detail and texture to your botanical painting.

Colour swatches are also important and you will make colour notes etc to keep as future reference. Doing a swatch and practising colour mixing is the best way to progress and be able to look and know instinctively which colours to mix.

Student pieces

During Wildlife Illustration the group will be working from photographic reference therefore please bring any pictures you might be interested in painting birds or animals. SImon himself brings much materials as well as insects and a variety of other real specimens - butterflies insects feathers etc

student piece

Wildlife Illustration in Watercolour / Gouache

Fri 10th March, Sat 11 March Sun 12th March

Any combination of days is possible

£75 per day 9.30am to 4.30pm

choose your days and choose your subject - Botanical or Wildlife -

you may interchange between both and demonstrations are given in both

(Thank you Lara for sending through your finished kingfisher. He is beautiful ! X)
PLEASE CLICK below for

Simon's

equipment list

Of the different elements of watercolour painting colour mixing seems to produce the greatest anxiety for students.

The mixing of dark colour in particular in order to create convincing shadows often leaves students perplexed.

Through demonstration and individual tuition I will show how an understanding of colour

relationships can provide the key to confident colour mixing and the painting of

convincing three dimensional images.

Visiting for several year

past course photos can be seen on the below link

Tutor's Profile

Simon Williams is a professional Illustrator running SW Illustrations specializing in Natural History and Botanical subjects and

is listed in the 33rd Edition of Who's Who in Art.

see his website http://www.swillustrations.com

He trained as a Natural History Illustrator at the Arts Institute, Bournemouth.Work has been published in 'The Art of Botanical Painting' on Wildlife Explorer Cards, Ocean Life work and a book on Wildflowers.Illustrations have been awarded the Silver – Gilt medal from the Royal Horticultural Society and Certificate's of Botanical Merit from the Society of Botanical Artist.

Simon is a tutor for the Society of Botanical Artist distance learning diploma course.

IIllustration skills will be covered in the course from applying first colours to working dry brush technique for building up detail.
---
for Beginners and intermediates, workshops with Margaret Jarvis
Intro to Watercolours ~ Intro to Pen & Wash ~ Discovering Watercolour & Coloured Pencils
Here's a link to the May 2016 Intro to Pen and Wash course , these photos are accessible to everyone

If you are new to painting and would like to start somewhere - we can highly recommend Margaret Jarvis, an outstanding local tutor for Beginners and Improvers in both Watercolours paints and pencils and also Pen and Wash. Margaret comes with a wealth of knowledge and confirms that you don't need to be able to 'draw' to paint with watercolours, it's all about technique. Although nearly all of our classes and tutors are suitable for all abilties , for a really good grounding in watercolour techniques then Margaret course is ideal.
You will then feel infinitely more confident about attending any of the painting classes here , which actually attract a wide range of abilities. The students who paint like the tutors have probably practised for hundreds of hours, they were also beginners once.
2017 course dates

for Margaret Jarvis

Presently we are lunable to secure any

2017 dates with Margaret, though we very

much hope she will soon return

to teach later in the year.

If you wish to be kept informed please let

us know. There is a chance an opportunity

may arise at short notice for one

of her very popular workshops.

We will contact those on the

Art section of our database.

This lovely local artist has been

teaching beginners classes since the first

Quirky Workshops at Greystoke in 2006.

Frequently experienced artists venture onto Margarets

courses and leave saying they've learned a great deal -

she has many hints and tips to share

Watercolours Xmas cards

Discovering Pen and Wash

Katheleen our Hen

Intro to Watercolours

Fri 25 Nov 2016 including Christmas Cards

9.30 -4pm

...looks in depth at

colours , colours mixing techniques washes shading

and brush tachniques . It is the most useful place to start for those wishing to learn the basics in an enjoyable, thorough day of discovering

the world of watercolours.

Even those with considerable experience say they learn a lot from this class

.

A typical piece from the end of a beginners

Watercolours class

Intro to Pen and Wash

£68 inc a lovely 2 course Aga lunch /refreshments etc

Thur 1st Dec - including Christmas Cards

9.30 -4pm

this medium can also be know as 'Watercolour & Ink'-

This day will touch on colour mixing and using watercolours and it combines the subtle variable nature of the watercolour wash with finer detail picked out in black ink pen, allowing the artist different effects in shading and textures. The type of ink pens used - its water solubilty and also stippling intensity and textures employed create a vast range of effects

Pen and Wash Xmas

Pen and Wash

Students therefore spend less time on the course

studying in depth colour mixing and and more time

on different effects one can make with the pen

compared to a watercolour course.

Pen and Wash

(note the fine outline using the pen, then filling in

with watercolour )

After painting your cards Xmas cards,

5 minutes with a colour

photocopier will mean you

can keep the original & make your own impressive cards from copies
First Steps in Botanical Art with Marion Wilson SBA
Painting Fruit and Berries

of Hedgerows

2017 dates coming soon

9.30 -4pm

Some watercolour experience is required on this day

A lovely opportunity to spend a day with

Marion Wilson SBA from Cockermouth

As a SBA distance learning artist Marion has exhibited several of her pieces in the Westminster Hall SBA Spring show

over recent years.

You will learn all about painting botanical subjects. Choosing paper, how to mix paints and use various brushes,

Sketching out in pencil first , where to start, painting white spaces, highlighting, depth, depicting round shapes, flowers vs leaves or berries.

She will bring in many subjects and by the end of the day

you should be well equipped to progress

further in Botanical art

Student piece

Marion has been painting flowers and plants in watercolour since her retirement in 1999, and

has exhibited in London, France, Switzerland and Frankfurt with the Society of Botanical Artists,

having been accepted as a member in 2011 after 2 years of study.
| | | | | |
| --- | --- | --- | --- | --- |
| 'Greystoke Cycle Cafe | | | | |
Far Eastern Brush Painting with Irene Sanderson
A day of learning the techniques

and studying

the background

to these favourites of Chinese and Japanese paintings.

We have no date for this course, but are happy to arrange a workshop for a minimum

of 6 persons - please contact us for further details

Back to table
The Painted Horse ~ The Charcoal Horse with Alex Jakob-Whitworth
We have no date for this course, but are happy

to arrange a workshop for a minimum

of 6 persons - please contact us for further details

Painting & Drawing

the Horse

Alex has worked closely with horses

throughout her life, she holds a Masters

Degree in Art and

still works daily as an equine therapist.

Painting, owning, training, competing and working

within this closely maintains her daily connection

with the magic of the horse and must be what

equips her to paint so well

as the adaptable artist she is today.

A day for those who love horses ,

would like to depict them on paper

but feel they need guidance.

Try working in charcoal, pencil or paint,

Alex will help you to discover the medium you prefer.

She brings extensive work sheets to start you off,

so the day begins highly structured for those

who need it.
Billy teaching at Greystoke

July 2010

A Botanical Master Class with …

Billy Showell BA SBA

'My work aims to give a modern edge to botanical art. Simplicity, elegance and beauty inspire me together with an occasional touch of humour.

Although botanically illustrative, my work is modern in its approach and is primarily about creating an arrangement that symbolises the simplicity and beauty of the natural world.

Design and composition are therefore as important to me as the true colours and shapes of the subjects.'

Please click below for

Billy's materials list

Billy will be travelling from her home in Kent. She has tutored at Greystoke Cycle Café on a number of

occasions and continues to delight all those who attend. More of her work can be seen on her website

www.billyshowell.co.uk
Billy Showell Masterclas

June 2009